At this point, you must be thinking hard about how you would study for the internal medicine shelf exam. I understand the pressure since this will somehow measure the depth of your learning experience in medical school.
I know it's stressful at some point, and that's why I am more than pleased to help you look into the needed details.
Be at ease because I will be sharing helpful information you must know to prepare yourself for the test mentioned. As we go further in this blog, you will encounter different points that will benefit you and your career.
What Is The Internal Medicine Shelf Exam?
Have you ever heard about the Diagnostic Assessment? The DA is a test usually done by education students to identify their current knowledge of a subject, their skills, and capabilities and clarify misconceptions before the actual teaching occurs.
Similarly, medicine also has an evaluation review, and this is known as the Internal Medicine Shelf Exam (IMSE). Doctors who practice Internal Medicine are generalists. They handle a remarkable range of health conditions, whether acute or chronic, ordinary or odd, complicated or bearable.
Internal Medicine is more of an intellectual specialization than other specialties, so before proceeding, the Internal Medicine Shelf Exam is considered.
IMSE aims to evaluate a student's general medical knowledge and ability to apply that expertise to adult patients right after the medicine clerkship, usually taken in the third year of medical school.
These examinations may consist of Objective Structured Clinical Examinations (OSCEs) to assess your clinical skills, subjective or constructed appraisal of your clinical performance by residents, and typically some tests to determine your understanding of fundamental internal medicine concepts.
This course is incredibly challenging as it covers a wide range of clinical knowledge, thus, a lot of time should be spent studying for this exam.
Several universities create exams during the clerkship to evaluate internal medicine knowledge. Nonetheless, the majority of internships in the U.S. use the National Board of Medical Examiners (NBME) Medicine Subject Examination as an end-of-clerkship evaluation.
NBME Medicine Subject Examination
The assessment under NBME is known as the "shelf" exam because it was not created locally but was purchased from the NBME. You may encounter exams of a similar style utilized in your other third-year practicum since the NBME uses a series of subject exams to distribute over several disciplines.
The Medicine Subject Examination (MSE) is a web-based analysis with 110 questions, most requiring only one correct answer. It will take approximately two hours and 45 minutes to complete.
The content of the NBME test includes core internal medicine knowledge as deliberated by a group of topic professionals, many of whom are internal Medicine medical educators.
Then, as soon as the results of the MSE are out, NBME will inform your clerkship director about it. Note that the Medical Subject Examination scores are statistically equal, which means that even if students may have taken the same exam at different sites, the reported scores will still have the same meaning for all students.
Information from the shelf examination can also help your residency director ensure that the material covered in the curriculum is in the exam.
Best Resources For Internal Medicine Shelf
Specialists have recognized Internal Medicine as a busy rotation. Yet despite the complex schedule, you must still prioritize your shelf exam.
How can you create a proper study plan and maintain discipline even when exhausted? What resources should you use, and what topics should you focus on?
The massive amount of available learning materials can be overwhelming. But as I said, you don't have to worry because I have listed the most helpful ones.
Here are the resources that I'd highly recommend you for the IMSE:

Mind that the Shelf Exams are necessarily modified versions of the USMLE; items on the SE are "shelved" from previous USMLE exams. Thus, studying Step 2 CK questions is an excellent way to prepare.
Undoubtedly, UWorld is one of the best tools while studying for the Shelf Examinations since they get to filter questions to only show which ones are relevant. As the "Medical" category has more than 1100 questions, it will take some effort on your part to complete them all.
Fortunately, since this rotation is often the longest, you have so much time to do so. You may try to answer all of the medical problems throughout your shift twice.
By having UWorld as your primary learning tool, you can handle the percentage of your correct answers. Pay attention to learning as much as possible from each question and the explanation that goes with it.
Anki Decks
Given that UWORLD's practice questions are perfect for checking your knowledge, you can use Anki to learn the content thoroughly.
The Brosencephalon deck is designed for S2 but is also helpful on the Shelf. Each card is simple but highly effective.
The way they present the subjects in this pre-made deck's vignettes is a nice feature.
Also, the solutions usually include screenshots of the OnlineMedEd diagrams. This resource allows us to study from various sources using only one flashcard deck.
This resource has many parts and is quite helpful. It features a question bank in the USMLE format that the system can specify to only those appropriate to a specific clerkship (much like UWorld).
Experts recommend starting with UWorld first because the questions in AMBOSS are likely to be slightly more profound than those in UWorld. Let's make an initial run through UWorld before moving on to AMBOSS. Then, a week or two before your exam, you may revisit UWorld for your second attempt.
Aside from having a Qbank, AMBOSS can also be helpful on the wards and in the clinic. It has several evidence-based articles that constantly update its data on clinical issues. You may use these to help us impress your attending and also to permit us to learn the most from every patient you encounter. AMBOSS will support us in getting a better clerkship grade.
Bonus: Want better grades with more free time (and less stress)? Get access to our free 3-step study system here to see what other top students do that you may not be doing!
This collection of lectures focuses on high-yield topics that are great for reviewing, gaining a broad overview, and linking various issues. OME videos can be a great study tool — professionals persistently advise us to begin with them during training, then add more in-depth resources once you have established a solid foundation.
Imagine being tired or stressed after long hours of duty and then still having to study for the shelf exam. Watching videos may seem way more convenient than reading or answering questions.
Some students review with OME, concentrating on the topics they know could be more assertive. For each video, notes are also available, which you can use for a fruitful review before the test.
The decision trees are one of the most beneficial aspects of the notes. They assist in determining what to do next with a patient based on their clinical situation. You can use them to your advantage on the Internal Medicine Shelf Exam.
If you're interested in OnlineMedEd, use this promo code: MDJourney25 to get 25% discount! It is valid for annual memberships only (Core and PA).
An additional resource to the Qbanks is a textbook. Step Up To Medicine is a great choice. But bear in mind that this book has a lot of information. Don't bother with Step Up if you're preparing for the exam in the final few days, as it will merely stress you.
Even so, Step Up can be an excellent study aid if you start early and are persistent about spending time with it each day. This way, you can review the whole book before your exam.
For an additional fact, Step Up to Medicine is also a good material for the Surgery Shelf Exam, so it's worth having around.
Considering your demanding load, looking at the basics can be overbearing. I have organized a schedule that will help you be more composed.
Get The Exact 8-Steps I Used To Get A 3.9 GPA In Med School For Free Below!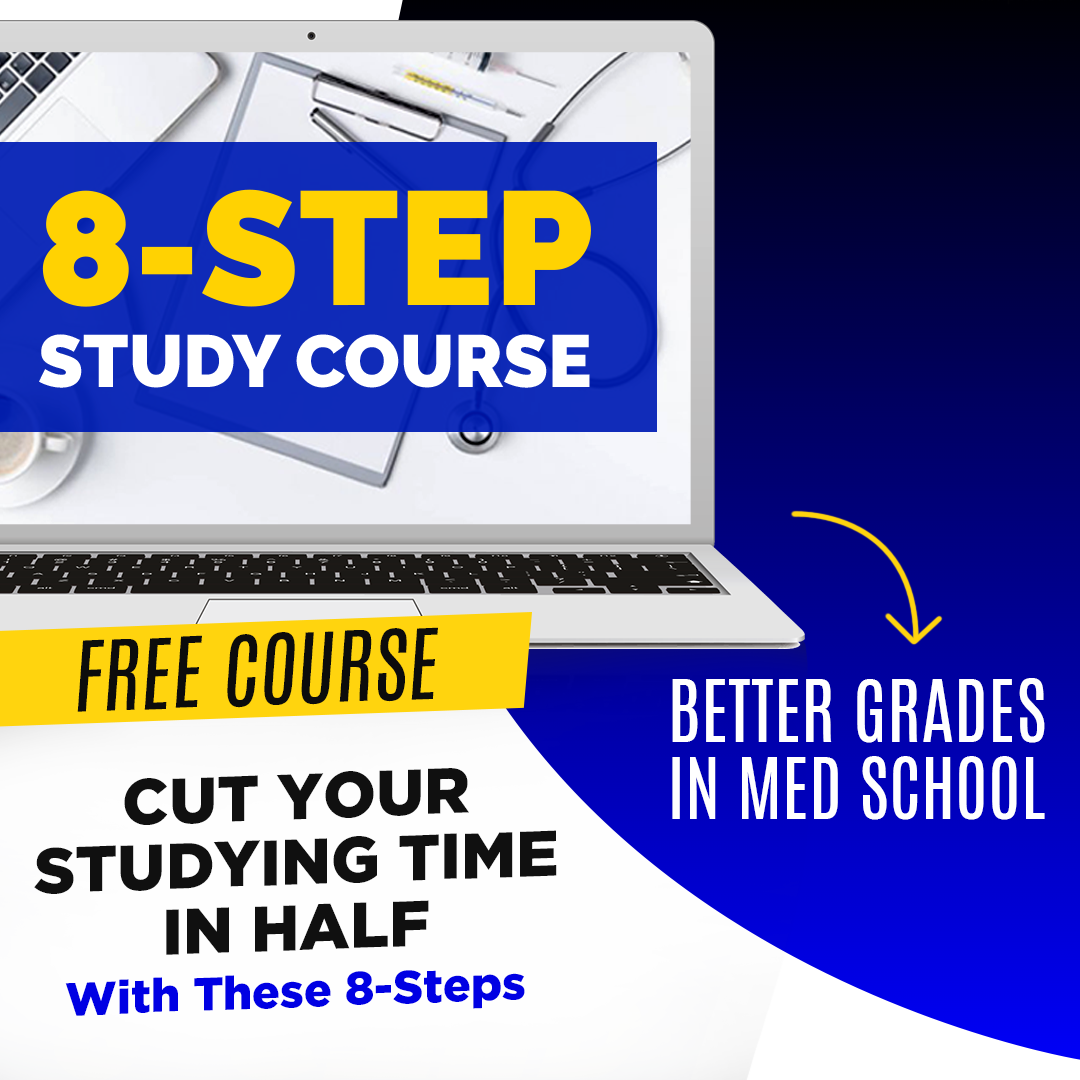 How To Create A Study Schedule For The Internal Medicine Shelf Exam
The third year is extremely hectic, and the clinical operation is often one of the busiest. Throughout your entire shift, you'll be on call frequently and spend a lot of time on the wards.
There's a high chance of being worn out and unmotivated to study when you get home. Therefore, having it scheduled in advance is essential to ensure it will occur.
Set a daily study goal (for instance, a certain number of UWorld questions or pages in Step Up) and try to achieve it. Be flexible; it's alright to finish only some of your studying in a day if you are too busy on the wards.
Make it up as soon as you have the time. By setting a daily objective, you'll be able to stay on track and stand prepared for the inevitable schedule disturbances.
I suggest starting with UWorld. Past takers perceived Medicine as the most challenging section there, with more than 1600 total questions with new ones added daily. Even if you won't finish them all, as long as you keep trying to answer at least 20–30 further questions each day, that is fine.
To ensure you have learned from errors made in the past, you can move from new questions to marked or incorrect medication questions. You must read the explanations carefully, even to those you have answered correctly — this is where the information jar fills!
Next to ponder are the OnlineMedEd videos for a broad overview of topics. Cardiology, pulmonology, gastroenterology, nephrology, hematological oncology, infectious disease, endocrinology, rheumatology, and dermatology are just a few of the many medical specialties you should try to study. Aim to view two to three videos per day to complete the videos at least a week before the NBME shelf test.
Select an Anki deck and stick with it in the work's opening. The most popular options are AnKing and Zanki for Step 2. Let's push ourselves to complete all medical cards (at least 50 new and 200 reviews per day).
Keep your phone's deck synced because it's a fun activity to do while waiting on the floors!
After completing these resources, you may move on to more detailed ones, such as AMBOSS and Step Up. In the last one to two weeks of your term, reread the UWorld questions and OnlineMedEd (notes or videos) for the areas you find more challenging.
The clinic and the wards can be unpredictable. Though you'll be there for many lengthy hours, you never really know when you'll have some extra time. Use it when it comes up.
Then, consider having Step Up in your bag for when you have an unexpected break during the day and can get some studying done.
Tips On How To Study For The Internal Medicine Shelf Exam
With the amount of information in the clerkship, you will need intensive study for the IMSE. Maintaining your learning throughout the residency is essential because the internal medicine Shelf exam involves multiple organ systems.
Considering there are over a thousand matters to absorb, avoiding cramming and taking the evaluation seriously is best.
In this part, I will present pointers to help you strategize for our upcoming IMSE.
One of the biggest challenges medical students will encounter during their clinical years is balancing their clinical responsibilities and didactic/book study.
It's critical to understand that even though much of the content on the IM Shelf is based on material from Step 1 and in our preclinical years, new clinical questions will circulate beyond the area of basic sciences and into the clinical setting (later to be examined on the USMLE Step 2 CK).
The most significant way to learn about these concerns is through your patients, attendings, and ward residents.
Be mindful of how your final grade is determined as well. Although clinical evaluations typically make up most of your final mark, they should receive at least the same work and preparation as the Shelf exam.
One week before the expected date of IMSE, complete a Clinical Mastery Series Self-Assessment to become familiar with the examination conditions.
Examine and evaluate the ailments that you commonly tested together. Take note of the similarities and differences between these disorders because that's how you will analyze the Shelf.
For instance, I understand the physical investigation and diagnostic results between restrictive and obstructive lung diseases, as well as being able to determine between diverse obstructive lung diseases such as COPD and asthma.
Both may gasp, but asthmatic patients will significantly improve after albuterol administration. By knowing these things, it will be simpler for you to predict standard test particulars.
Enumerate a range of tasks for typical vital problems. For example, make a flow chart of our possible differential diagnosis for chest pain.
Be sure to record the tests you'd conduct and how those findings would help distinguish between the potential diagnoses.
Focus On The Long Term
The qualities you'll develop during your clinical years in medical school will be beneficial during your time as a resident and during the decades of independent practice that follow.
The concepts examined on the Internal Medicine Shelves represent the fundamental knowledge that every doctor should possess and the broadest range of subject matter involving many specialties.
Consider the time you invested in studying for this Certification exam as a long-term investment that will benefit your patients and medical profession. By considering the long view and seeing the immeasurable value of this content, you may transfer this inspiration into your study habits and drive to succeed.
The journey of being a doctor will cost us a lot of things: money, effort, time, patience, and so on. At some point, it will also teach us how to sacrifice, but I hope you'll push through. The road may be extended and challenging, but one thing's for sure, you will make it!
Want Better Grades In Med School In Less Time Using Just 3 Steps?

Click Below To Get FREE Access To Our Study Course To Discover The 3-Steps Hundreds Of Med Students Have Used To Increase Their Grades & Efficiency While Studying Less
If you want more step-by-step help for your clinical rotations, check out the Crushing Clinicals course!
Learn tips and strategies for all of your core rotations. Get sample study schedules to ace your board exams. Learn how to master necessary skills such as EKG, reading X-rays, interpreting labs, and tying surgical knots. 10X your results on each service! Check out the course here.
I hope I've provided the help you need. If you enjoyed this post, check out some of the other blogs for more helpful content:
Until the next one, my friend…