Do you know that getting the ERAS photo requirements right can do wonders in your residency application? It can make you look more appealing and competitive.
Know that your ERAS photo is the one the faculty members will look at for hours as they are deliberating your candidacy. So, ensure your photo leaves a long-lasting, great impression on your future bosses and colleagues.
Perhaps you are searching for the ERAS photo requirements, and you wound up reading this blog. Well, you may look no further because I've got you covered!
What Are ERAS Photo Requirements?
You don't have to stress too much about getting an excellent ERAS photo. It doesn't have to be complicated — just make sure you do them correctly.
I've listed the specific requirements for an ERAS photo for your reference:
Dimensions: 2.5" x 3.5"
File Size: 100 KB
Resolution: 150 dpi
Face: Centered
Photo: Colored
Background: Plain White or Light Gray
In Frame: Frontal View of Head and Shoulders
Why Is It Important to Get Your ERAS Photo Correct?
If you submit a photo that fails to meet the specific requirements, faculty members may not evaluate your application. The evaluators receive thousands of applications daily, and you wouldn't want yours to be ignored just by looking at your photo.
Faculty members will judge how serious you are in your residency, so make sure to take your photo correctly. Additionally, they don't have all the time in the world — getting your submitted photo right the first time is crucial.
When Should You Take Your ERAS Photo?
It is better to have your ERAS photo taken as soon as possible — probably near the time of reviewing applications. This ensures that your photo is recent and there isn't much difference in your overall look.
Residency programs start reviewing applications in September. You may also have your photo taken when you don't look stressed — you'd want yourself to look healthy.
Keep in mind that your ERAS photo will help the faculty members recognize you when you arrive at your interviews, so make sure that you look the same.
Want Better Grades In Med School In Less Time Using Just 3 Steps?

Click Below To Get FREE Access To Our Study Course To Discover The 3-Steps Hundreds Of Med Students Have Used To Increase Their Grades & Efficiency While Studying Less
Tips On What To Wear To A Medical Headshot for Residency
Remember, your medical headshot differs from the one you post on your LinkedIn or social media profiles. Here are some tips on what and what not to wear in your application photos:
Tip #1 Avoid Wearing A White Coat
Although you must dress professionally, wearing a white coat is typically discouraged for ERAS photo submissions. Wear a suit or anything formal — it shows more personality!
Tip #2 Choose Simple Styles And Colors
Evaluators recommend men and women wear a charcoal or navy suit jacket. In addition, men must wear dark or solid-colored ties and avoid patterned ones.
Whatever top you choose, make sure that it compliments your suit jacket. Dress sharp and presentable, but do so without using flashy colors!
Tip #3 Wear Eyeglasses If You Use Them
There are claims that applicants with glasses in their ERAS photos are more likely to get their applications approved. It says glasses make candidates appear more intelligent, hardworking, and successful.
However, I suggest not having glasses in your photo if you don't use them all the time. Also, just because wearing glasses is statistically proven to land you an interview request, that doesn't mean you can buy and use a fake one.
Tip #4 Wear Your Pieces Of Jewelry To A Minimum
Although the evaluators expect you to dress appropriately and conservatively, I recommend you wear jewelry to spice up your look. Not too many, though — just enough to make you look more presentable.
Tip #5 Wear Your Confident Smile
Smiles are contagious. When they see your photo smiling, they probably make time to review your application more.
It would be best if you appeared confident, friendly, and approachable in your photo. From a faculty member's point of view, they will gladly give someone who looks friendly a chance to be part of their team.
Don't overthink it. Smile as if your application is already approved!
Get The Exact 8-Steps I Used To Get A 3.9 GPA In Med School For Free Below!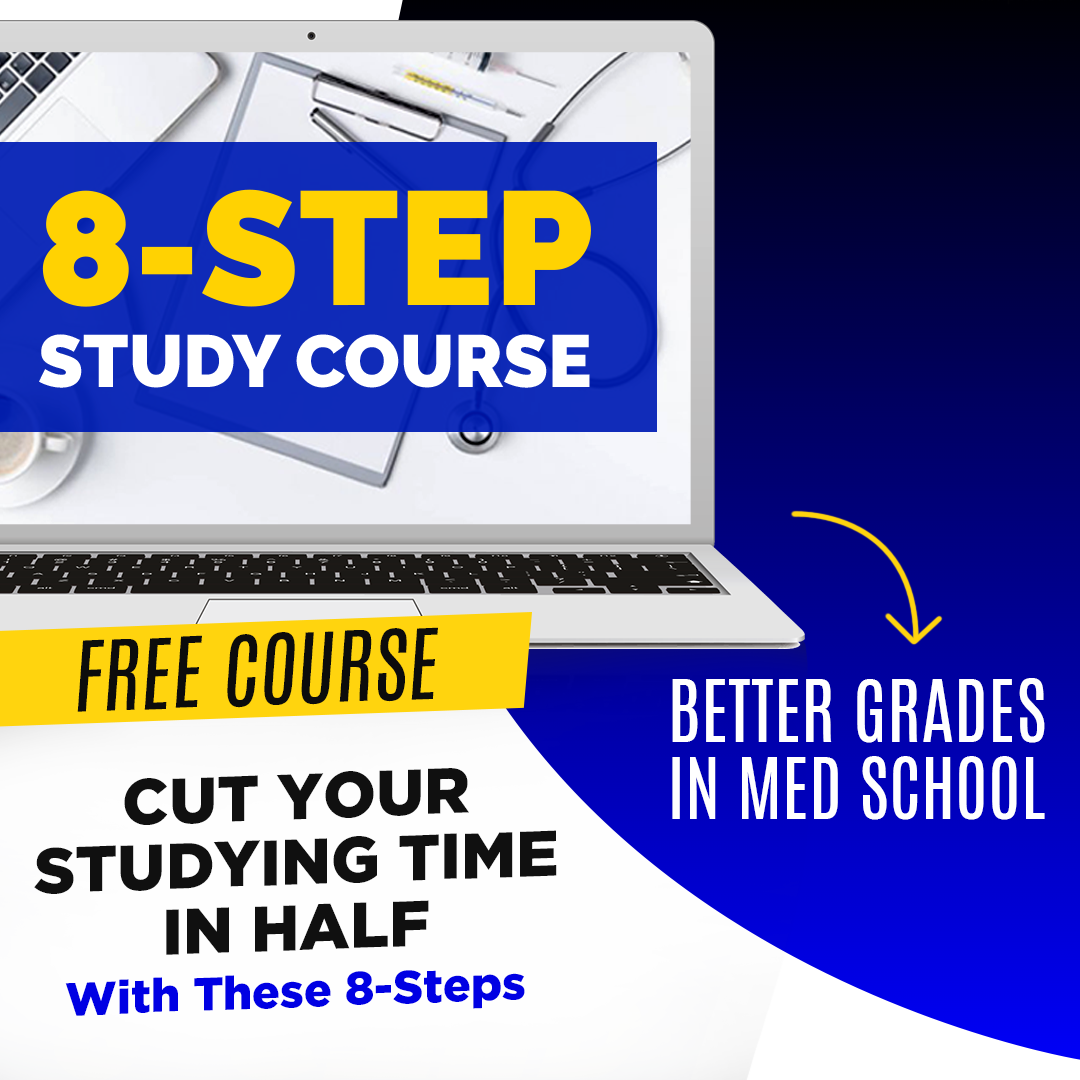 Should I Shave For My ERAS Photo?
You may or may not shave for your ERAS photo — it is really up to your preference. If you usually have facial hair, I suggest you let it be in your ERAS photo. Just make sure you still look well-groomed, and your face is still recognizable.
However, you should shave for the camera if you are gunning for a clean and old-school look. Or, you always shave regularly.
Should I Have My ERAS Photo Retouched?
Retouching, such as lightening your background and smoothening your eyes, can help you look more presentable. Overall touch-ups like teeth whitening, removing blemishes, reducing shadows, and color corrections are other reasonable suggestions for retouching.
Pro-tip, though, don't make your retouches too extra — this isn't for dating apps! A little glow-up can do wonders, but make sure the one in the photo and the person in the interview is the same person.
Lastly, avoid using Instagram filters. If possible, seek professional advice.
Should I Hire A Professional To Capture My ERAS Photo?
Hiring a professional for your photoshoot could be worth it, knowing the significance of your application. However, paying a service amounting to more than a hundred dollars is crazy.
If you consider hiring one, here's what you should look out for:
Has a good portfolio of work
Has access to professional lighting
Has good camera equipment
Has retouching and resizing skills
If you are on tight funding, you may use an excellent smartphone to edit and take your photos instead. Or, if you have photographer friends, now is the best time to put their skills to work.
Although there are many pros to engaging with a professional, not everyone can afford them. Just make sure that your photos are high-quality and professional-looking.
Should I Smile For An ERAS Photo?
Of course! ERAS photos aren't mug shots or passport photos wherein you need to look as serious as possible.
Your smile signals faculty members that you are friendly and pleasant to work with. You can't fake a smile, especially when you are smiling with your eyes.
In addition, smiling with or without your teeth works, as long as it is natural. Putting a forced smile on your face is unappealing and may make you look dishonest.
As I mentioned earlier on this blog, don't overthink it! Make your smile as authentic as you can.
Can My ERAS Photo Help Me Land The Program?
Not a hundred percent, but it sure will provide you with the best start. You don't have to look a lot like a supermodel; you just need a photo with good lighting.
Your photo is only one of the few things the faculty members see. Still, your credentials and other requirements will surely land you your residency.
Let me give some tips in terms of the best lighting and background!
Tip #1 Use Bright Lighting
Bright lighting looks fantastic and is always better than plain lighting! This gives your photo a bit of exposure.
It may show face blemishes, but you can always retouch your photo afterward.
Bonus: Want better grades with more free time (and less stress)? Get access to our free 3-step study system here to see what other top students do that you may not be doing!
Tip #2 Plain White Background Is A Must
The white background gives your photo a modern and more professional aura. You may also use light gray instead of white as an alternative.
Both white and light gray backdrop generally stands out among other colors in terms of making your facial feature pops out.
Plus, isn't white very clean and formal? That is the look we are eyeing for, right?
Tip #3 Your Setting Matters
Make sure there aren't any distractions or anything crazy in the background. Moreover, dark backgrounds or photo locations are highly discouraged.
Again, we are aiming for the best professional-looking photo.
Get The Exact 8-Steps I Used To Get A 3.9 GPA In Med School For Free Below!
Can You Change Your ERAS Photo After Submitting It?
Unfortunately, faculty members will not entertain changes or updates once you have submitted your ERAS photo. That's why you must ensure that everything's smooth before sending your application.
Take this application as an opportunity to demonstrate your enthusiasm for applying by paying attention to details and not making errors on your first try.
Your application photo may seem like a minor part of your ERAS application compared to the other requirements. However, it is still something you must take seriously.
The faculty members will not even review your application if your ERAS photo does not meet the criteria. They don't have time to review thousands of applications, and looking at your photos is a faster way to narrow them down.
That said, please follow all the ERAS photo requirements and tips in this article for better chances of getting your residency interview request. After all, it contributes big time towards getting your journey to residency.
Here is a step-by-step course to teach you exactly how to crush your first year of residency, even if you're unsure of what to expect, overwhelmed by the workload, and even if you are starting to doubt if you're even cut out to be a doctor.
The Intern Year Survival Guide is designed for any upcoming resident who is overwhelmed by the idea of starting residency but wants the blueprint to crush it as a first-year doctor. Get access here!
Did you enjoy this article? Make sure to check out more of our great content by clicking the following links:
Until the next one, my friend…