Studying for Step 1 sucks. But I'm going to show you exactly how to automate your Step 1 study schedule in just minutes through this Cram Fighter review!
If there's one thing you, guys, enjoy in terms of content, it's either about studying for Step 1 or just tips on studying. So now, I will combine both of them. Specifically, we'll talk about how to prepare your study schedule for Step 1, but do it very easily.
Yes, you can put in the time and create a schedule manually, but if you're somebody who tends to get overwhelmed and just need a study plan that you can use and start getting results, then this is the article for you.
And so if you want to learn how to automate your Step 1 study schedule, then you will love this Cram Fighter review and step-by-step guide.
Wait a minute! If you want this post in a video format, you can check out my YouTube video below! Make sure to subscribe for weekly content and leave a comment if you enjoy this one!
Automate Your Step 1 Study Schedule
If you're not familiar with Cram Fighter, think of it as an automated study tool for all of the board exams, particularly for Step 1 where you can choose the resources, how much time you need, when you will study, and how long you have to study. And then it creates a study schedule that you can use on a day-to-day basis.
It is a resource that I love recommending for medical school and also for all the students that I coach.
This blog post is not sponsored by Cram Fighter, although that would be nice. This link, however, is an affiliate link, which means that we get a commission if you do choose to sign up with Cram Fighter. But you can also go directly to the Blueprint website and you would be able to sign up for Cram Fighter.
In this Cram Fighter review and step-by-step guide, I'm going to show you what it's like to prep for any exam, particularly Step 1.
The nice thing about Blueprint is that you won't have to take hours looking on Reddit, finding your own study schedule, and deciding which resources to use. Cram Fighter can do that for you in seconds.
Here, I have an old example of a schedule that I have done for a student that I have coached.
General Settings
To create a new one, click "Edit schedule" on the top right.
And once you sign up for their program, you essentially will be shown something like this:
Bonus: Want better grades with more free time (and less stress)? Get access to our free 3-step study system here to see what other top students do that you may not be doing!
My Pace
So you can choose "My Pace", where you will input the number of questions you can do per hour. You have the option to type the number of pages you can read. Let's say we can do 40 questions in an hour.
You also choose the video speed that you like, which I really enjoyed because I love watching videos at 2x to 2.5x speed. Though a lot of students that I work with usually choose 1x or 1.5x max.
And finally, choose the number of flashcards you can do. You can adjust these as needed. Once you're done customizing you can click "Save and Rebalance".
My School
Now, for "My School" you can add the institution where you are studying.
Want Better Grades In just 3-Steps?
Get Access To Our Free 3-Step Study System To Get Better Grades With Less Time & Stress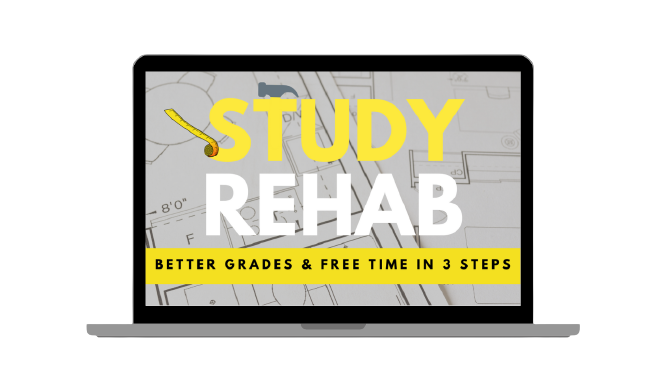 Create A New Study Plan
Let's go ahead and create a new study schedule, particularly for Step 1, by clicking on "Create A New Study Plan".
It will ask some basic questions. In this part, I'll choose MD/DO since that is what I'm pursuing.
Next, it's going to ask me if I'm studying for a course exam or if I'm studying for a shelf exam versus a standardized exam. For Step 1 we'll choose "Study for a standardized exam". And then below that choose your school.
And the beauty of this is that you have a lot of choices for the exams that you can prep for. So not only can you do it for Step 1, but for other exams as well.
In future videos, I'll talk to you about how you can use Blueprint and Cram Fighter to study for things like shelf exams on your rotations, especially if you're a DO student.
You can use Cram Fighter for COMLEX, both level 1 and level 2, and also for USMLE Step 2 CK, which is amazing.
If there are other exams that are not listed in the main menu, then search for them under "View all exams".
But for the purposes of this article, we choose "USMLE Step 1".
What I really enjoy is that you can now choose when your test date is and Cram Fighter creates a schedule based on it.
Let's say we'll choose "3 months away". Or if you know your actual test date, you can put that and change it as needed.
And then choose when you want to start and finish studying. You can put any date. Let's say I'm going to create my schedule today and start studying tomorrow. And then choose when you want to finish studying, a week before your exam, a day before, or choose a specific date.
If you want to keep it simple, just use some of their basic options because as I'll show you later that you can always change things and rebalance them.
You can also choose to give a name for your study schedule. But ideally, you won't be taking Step 1 more than once. And so you can just go ahead and give this a basic name.
Study Materials
One of the most essential steps here is choosing your resources. There are a few ways you can do this.
You can go ahead and choose the top free resources, or the top and most popular ones. If I click the top four popular resources, it's going to give me what most people use. In this case, they are First Aid, UWorld, Boards and Beyond, and Sketchy.
You can customize the number of pages per hour or the number of questions per hour for each. And then it will tell you the average amount of study hours per day. This is not always consistent. You may take longer or lesser time.
Your study time will also depend on how much time you want to give yourself on a daily basis.
Let's say, if it took me a full hour to read seven pages, then that is going to increase the overall time. Or if it takes me an hour to do 20 questions plus my reviews and I watch my videos at 1.5x the actual speed, then my study time is going to increase. So you have to be more realistic.
But later, we'll get into the tips on adjusting these settings to best work for you.
And then, if we click "Continue" and "Confirm", the magic happens quickly. Cram Fighter will instantly give you a calendar or schedule of what you will do with the different resources.
So after taking away all those other example schedules that we had, now we're just left with the one we just created.
For example, on Saturday, August 20th, we're going to start our Step 1 prep. Cram Fighter will tell you which pages you will read, which questions you will do, and the videos you are going to watch on Sketchy as well as from Boards and Beyond.
Cram Fighter does a nice job of telling you what pages to do and how long that kind of task should take you to finish. And again, things may change depending on how fast you are and how focused you are.
I really like that it tells you how long the videos are. For example, the video for the Resting Membrane Potentials is 10 minutes, but if I watch it at 1.5x the actual speed, it's only going to take me 7 minutes.
So it's a nice predictor. You may be someone who can only work for an hour and a half at a time or 30 minutes at a time. You can already see the number of tasks that you can do in one study session. You can then schedule your study sessions and your breaks. It's a nice way to split your time up.
As you're going through your day, you would just need to click the check mark on the things that you have already done.
Maybe it took you a longer time to watch a video because you needed to stop and pause it, or to understand it, or you just weren't focused. So you won't click the check mark. Anything that you don't check will be added to your schedule in the next few days.
Get The Exact 8-Steps I Used To Get A 3.9 GPA In Med School For Free Below!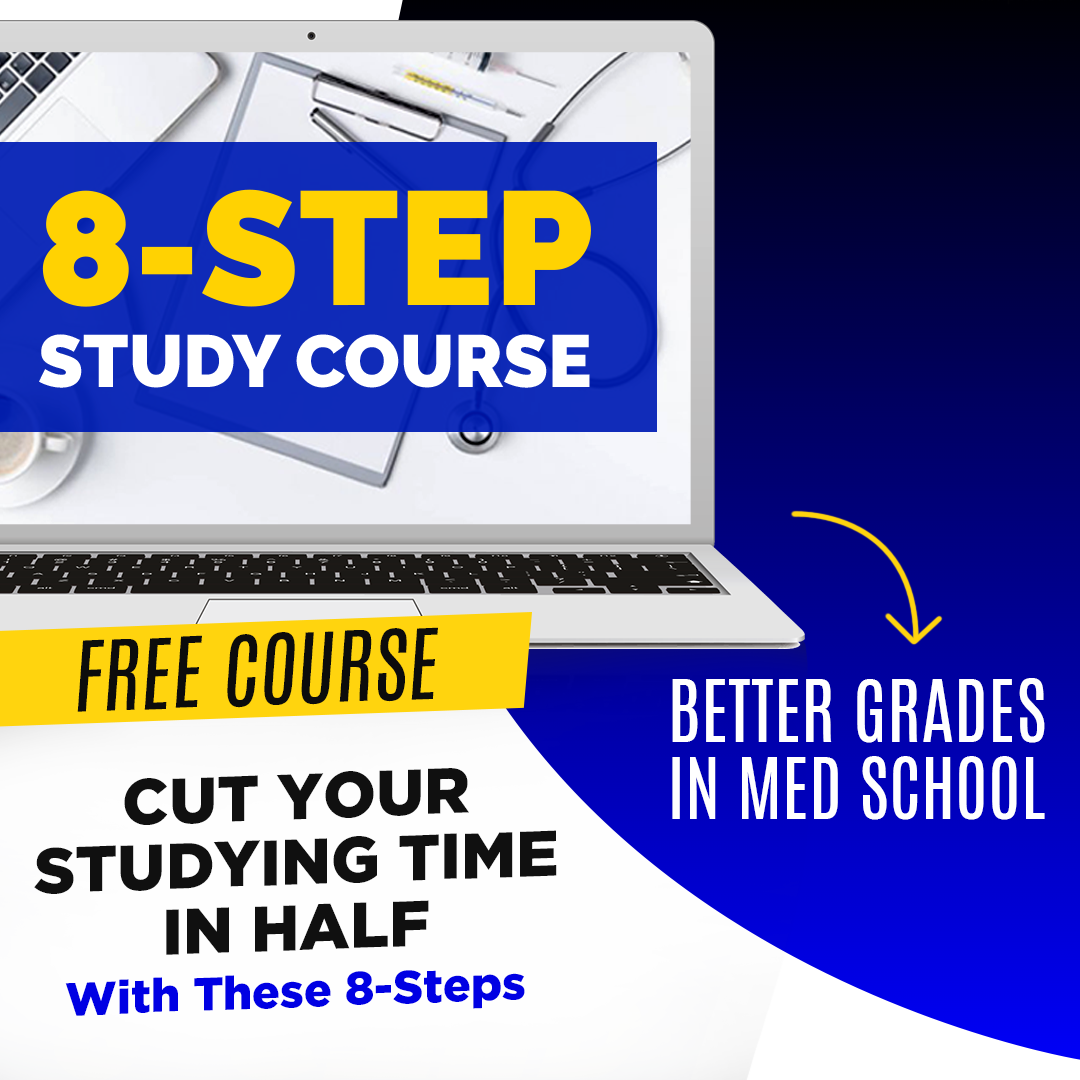 Rebalance Schedule
Hopefully, you're already starting to see the power of using Cram Fighter. Your schedule is already programmed for you and it's going to adjust based on how on top of your schedule you are.
Now, this is going to happen to most people, you will likely need to adjust your schedule based on how over-realistic or under-realistic you were when creating it.
And so you can redistribute overdue tasks across future days. So let's say I didn't finish three tasks today, then those three tasks would possibly be added to my schedule in the next three days. Otherwise, you just leave overdue tasks where they are.
You can rebalance on a daily basis or maybe on a weekly basis.
In addition, you can use their calendar view to get an idea of what each day will look like, which days you will not do any studying, as well as anything that is overdue or things that you haven't finished.
And lastly, you can go ahead and move your tasks using the drag-and-drop feature.
You can also click below the check mark and mark the task as completed, partially completed, skip the task, or move it to another day.
Clearly, Cram Fighter can do a lot for you on a very quick basis. But there are a few tips that I like to give when you are editing your schedule.
Bonus: Want better grades with more free time (and less stress)? Get access to our free 3-step study system here to see what other top students do that you may not be doing!
Time Off & Work Load
The first thing that you can do when you edit your schedule is to choose your time off and your workload.
Time Off
For example, I might want time off on a certain day in a week, let's say Sunday. I wanted to go to church or I just wanted to take that time off in between my exams. I could put that in Cram Fighter.
Now I'm not going to have anything scheduled on my calendar on Sundays, and Cram Fighter is going to redistribute everything.
If you are having your birthday or you are going on a vacation, you can simply pick those dates, and your schedule will be updated to not include those dates.
Catch-Up Days
Another cool thing that they have is the catch-up days.
If you want to have a day in your week where you're mainly just doing things that haven't been done that week, then you can put them as your Catch-up days.
Let's say Saturday is going to be your catch-up day because Sunday is your time-off day. That would be nice.
Routine
In addition, there could be certain days of the week when you have less time available or less energy available. Let's say on Fridays and Saturdays, maybe you don't have as much energy and you're not able to do as much, so you want to tone things down as you get towards the end of the week.

But on Mondays, you feel on top of the world, so you can do a heavier workload. And then on Wednesday, you want to lighten your schedule because, let's say, you're a parent or you have a family member who just needs more supervision from you. You can simply adjust your workload here.
Study Plan Dates
Another quick and awesome thing that you can do in Cram Fighter is change your test day if you need to.

You could also change the resources.
You can sort by subject or system. For example, you can choose to do cardiology first, or immunology first, or prioritize another subject as needed.
Study Resources
And finally, you can choose your study resources.
Let's say you're going through a week and you realize that a resource is not something you want to use.
With Cram Fighter it's very easy to overstuff your schedule with lots of resources, but that's not the recommendation or the use for the tool.
It's going to give you a schedule based on what you give it. And so you really have to control your input and your urge to try to do more.
My recommendation is to stick to two or three main resources. The first resource should be a really good question bank, like UWorld.
And then your second resource could be a video resource that you really want to use and that is your go-to resource for filling in the details.
A third one can be another video resource that focuses on one specific topic. A lot of people love using Pathoma or Sketchy Medical. Let's say, for microbiology, you can use Sketchy Micro. You can also use Boards and Beyond for more general topics.
Stick to your three resources!
The third resource could also be an Anki deck that you can use on the side.
So let's say we are going to adjust our study schedules based on just using UWorld and Sketchy, and we also want to use Anki. You can simply search for Anki.
A lot of people like the AnKing deck, so we'll go ahead and choose that. I can put the daily number of cards or the total number of cards. So let's say, we'll do a total of a hundred cards. And you can also change that as needed.
In addition, instead of using all of Sketchy Medical, we can just use the Sketchy Micro deck. And now you can see that it can get even more granular.
If there are videos you've already watched during the semester, you can unclick them. In that way, they won't show up on your schedule anymore.
You can definitely watch them later, but you can prioritize the ones you haven't seen first.
These resources are a good start. If I wanted to add a resource like Pathoma, I could try to finish my Sketchy ahead of time and then add my Pathoma to the very end.
Or I can simply increase my speed for Sketchy Micro, let's say 1.5x the actual speed, so I can finish Sketchy Micro a little bit quicker. And now I can use the extra days I have at the very end to do Pathoma.
Want Better Grades In Med School In Less Time Using Just 3 Steps?

Click Below To Get FREE Access To Our Study Course To Discover The 3-Steps Hundreds Of Med Students Have Used To Increase Their Grades & Efficiency While Studying Less
Additional Tips For Your Step 1 Study Schedule
Now, I want to give you two more tips.
Tip #1 Severely Under Plan
The biggest issue I have when I work with students one-on-one for Step 1 is that they over plan, and when I ask them how much they were you able to do, they say only about 30%.
For these students, their main question is "How can I force myself to do more?"
What they don't ask themselves is "How can I do less but do it with high quality?"
So sometimes I'll have students who want to use four to five resources but can't even find the time to consistently commit to the first two or three.
Create a schedule that's very easy to say yes to and severely under plan.
So you might want to do everything: Boards and Beyond, Pathoma, Sketchy, AnKing decks, and UWorld. But ask yourself, "If the test is in a month, which two resources would I use?"
You'd likely say something like, "I'll just do questions now, do the flashcards on top of it, and then if I really need to, I would go watch videos about the topics I keep missing." Perfect.
That means you only have to study two or three of those resources. Make those the first things you schedule into Cram Fighter.
And if there's still time in your schedule because you were able to nail everything down, go ahead and add your Pathoma videos or whatever comes on top of your priority list of usefulness for your Step 1 success.
Tip #2 Separate Question Time From Content Review Time
While Cram Fighter does a really good job of helping you understand what to do on an individual day, it doesn't quite yet do an amazing job of telling you what to do within the day.
It doesn't tell you to take a break now, or go ahead and do this during the morning, or do this during the evening. Those are still going to be on you. So sometimes, students still have an issue even when they're making the schedule themselves.
My biggest tip here is to separate your question time from your content review time.
Oftentimes, students will feel like they're falling behind on their Sketchy Micro videos and they will use that as an excuse to do fewer questions. But they realize that questions are more draining, but they're the most useful.
Think of your time slots. For example, 10 AM to 12:30 PM is going to be my time to do questions and review questions. Then 2:30 PM to 4:30 PM may be the time that I watch the next video that Cram Fighter is going to give me.
And so that means that even if you're falling behind on videos that you need to watch, you just move to the next one that is due once it's time to get into the videos.
But you don't use the excuse of being behind to sacrifice the most important thing, which is to do as many questions as you can.
Now if this Cram Fighter review and step-by-step guide seem very interesting, then check it out here.
In addition, if you need more step-by-step help for Step 1, then check out this article: How To Make A Study Schedule For Step 1 [Step-By-Step]
And on that note, if you want to do well on the test and pass with confidence, you'll enjoy this video of my top tips for students on exactly how to do this as well as all the study strategies that I use in medical school to have a 3.9 GPA. How I Got A 3.9 GPA In Med School [Most Effective STUDY Strategies]
Get The Exact 8-Steps I Used To Get A 3.9 GPA In Med School For Free Below!
If you are about to take USMLE Step 1, then check out the Step 1 Academy.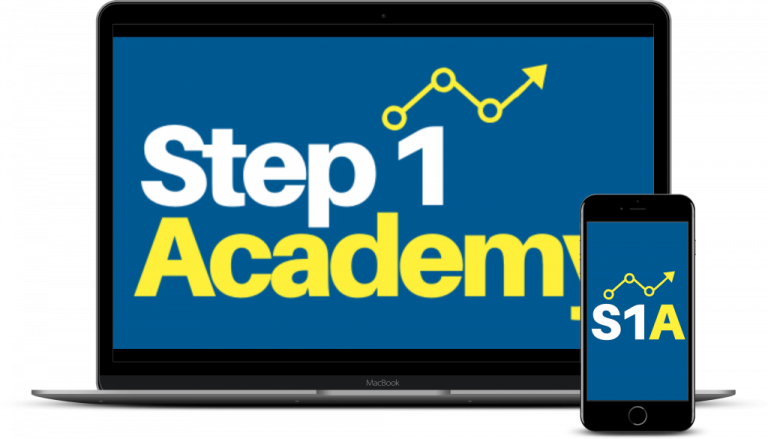 The Step 1 Academy is designed for students who are looking to crush their Step 1 exams but who may not know the approach or tools to help get them there. Click here if you want to get a high Step 1 score.
If you enjoyed this blog post about creating your Step 1 study schedule, then go ahead and click on the other informative blog posts below:
Until the next one, my friend…