Another rotation down and another post to hopefully be of help to you all. I looked forward to my Neurology rotation. Perhaps it was because I had a neuroscience background. Or perhaps it was just that I had finished a surgery rotation I didn't care for. Regardless I was looking forward to a 4-week rotation of interesting diseases (and no OR time.) In this post, I'll go over my top tips and resources for the Neurology rotation and the shelf.
1. Learn The Neuro Exam Cold
Knowing how to do the neuro exam is intimidating at first. There are many components to a complete exam and we likely haven't learned it well.
In my rotation, I was fortunate to have an evaluated neurology exam be part of the final grade. This forced me to learn it cold. After 10+ times of doing a full version, the neuro exam becomes second nature.
Here's a link from NYU nicely breaking down the different parts of the exam.
My school gave me the rubric for the evaluated neurology exam. As silly as it sounds, I imagined doing a neuro exam on my office chair. (The chair had a poor mental exam, but would I have known that if I didn't do the exam?) 😀
I would do one part of the exam (ex. cranial nerves) and then look back onto the rubric to see if I missed anything. If I did then I'd repeat it. If not then I'd add on another component (motor exam) until I had done a perfect neuro exam a few times.
The next step is to obviously practice on your patients and have your residents and attendings critique you.
Learn the neurology exam and the rest of the rotation becomes a whole lot easier!
2. Learn to Localize Your Lesions
Neurology is all about location location location. You need to be able to relate symptoms to a lesion (or lesions) somewhere in the nervous system.
Know the functional geographic map of the brain. Where in the brain do you expect upper extremity weakness? What about a blown pupil?
There may be multiple areas along the CNS/PNS which can result in a similar symptom. You will have to practice and look at all the symptoms of the patient. Which area fits the best?
A great way to sharpen your skills is to draw a diagram of the brain and spinal cord. No artistic skills needed. If you're feeling lazy just print one out like the images below.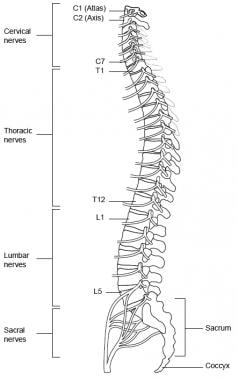 Now grab a coin and cover a region on your diagram and explain what the deficits would be. If you can great! If you can't, look it up or ask your residents/attendings.
This works great with the spinal cord diagram. Being able to understand what spinal cord level you should expect symptoms is important. Beyond that, being able to pinpoint which side you should expect findings of your motor, sensory (temp, vibration, pain, etc.), and the reflex exam is a necessary skill.
If you're not a neuro person then this rotation will push you to continually work on localization. Just practice on your own body and try to picture the neuro system at work.
3. Blueprint Neurology/Case Files/Pre-Test
Neurology was a rotation where I didn't relate my success to a particular book. Still, there are a set of resources which can be helpful for a short rotation.
Blueprints was my go to text. At first glance, the book seems too wordy but in reality, it's very direct and to the point. It also comes with good questions in between chapters and at the end of the text.
I managed to finish the text in about a week and used the rest of the time to do practice questions. In all honesty, you can honor the rotation by just beginning with questions if you'd like.
Here's a link to Blueprints Neurology.
See Reviews On Amazon
Case Files is something I suggest for anyone that needs a more regimented and simple schedule. If you can't find the motivation to "study" after clinical duties, Case Files is for you.
Just do 3 cases an evening (there are about 60). This will give you over a week to do practice questions.
I also used Pre-Test during my rotation. If you're not familiar, the series is just questions which are broken down by topic. The series has a reputation for having a mixture of great but also very specific questions.
I enjoyed the Pre-Test questions overall. Ever so often I got one of those off the wall questions. The kind of question where the answer has an incidence of 1 in the history of humanity. Yeah, skip those. 😀
4. UWORLD/NBME
UWORLD is always a great tool for any rotation. Unfortunately for Neurology, there are only about 150 questions. Try to do 2 passes through these during your rotation. At least try to redo the questions you get wrong. It's completely doable!
Aim to have the UWORLD questions done by the end of week one if not week two. Then either use the questions in your text of choice (Blueprint, CaseFiles, or Pre-Test). Aim to finish these texts by the end of week three.
For your last week do at least two of the four available neuro NBME practice exams. See where you stand and go back and review the areas you struggle with.
5. Have Reliable Tools
You'll learn that it's just an important to have decent equipment in addition to having a great exam. Here are a few things I recommend.
Reflex Hammer:
This is the one I bought and I love it! It was recommended to me by my stroke fellow. I highly recommend it. I've used it for my family and medicine rotation thus far.
Here's the link! 
You also will look more impressive when you can easily elicit a brachioradialis and bicep reflex with it!
Just don't buy one of those pizza slice looking hammers! 😀
See Reviews On Amazon
Tuning Fork:
I borrowed my tuning fork from a friend. Honestly, you may not use it again after neurology. Either borrow from a friend or buy a cheap but reliable one.
Here's a link to the one I used.
See Reviews On Amazon
Safety Pins:
I bought a pack off of Amazon and would keep a stash in my white coat. You'll use these for your sensory exam. Just remember to throw it away after using it once.
Pen Light:
Pupils are even more important in neurology. Make sure you have a penlight on you. Using the flashlight function on your phone is fine but it can be quite blinding to your patients.
Here's a link to a cheap but durable pack I use. If you're looking for something more official then here's a link to a higher quality pen.
See Reviews On Amazon
---
Use these tips on your rotation and you'll be well on your way to getting honors. Remember this will be a rotation which requires continual practice. Whether it's the neuro exam, localizations, or answering similar test questions, repetition will help you gain honors. Good luck!!'
Check out similar tips for other rotations below!
Internal Medicine
Surgery
Pediatrics
Family Medicine
Neurology
Ob-Gyn
You may also enjoy the following posts!
How to Study For Rotations In Medical School (Step-By-Step Method)
Top 7 Tips For Third Year Of Med School (How To Do Well)
How to Present Your Patients in Medical School:
How to Study for Clinical Rotations in Medical School:
How to Write Notes in Medical School (Step-by-Step method):
How to Build Strong Relationships with Your Patients:
If there is something specific you'd like me to address in a future blog post, comment below or email me at [email protected].
As always please like, share, and subscribe. Sign up for my monthly newsletter to receive updates on new blog posts. By signing up you also get access to my free eBook, Top Ten Resources for Medical School. Sign up here!
If you're a first or second-year medical student wanting guidance on how to succeed in medical school, read my book, The Preclinical Guide. I provide all the tips I wish I knew day one of medical school. Check out the book here.
Until next time…