Reaching medical school is already a big step, but dating in medical school? That is a whole new tier of adventure!
There are books available to understand and cure a disease, but are there any materials that can help you balance your academics while dating?
Well, in this post, I'm going to show you how to make your dating life work in medical school!
What's It Like To Date In Medical School?
Being in a relationship requires plenty of sacrifices, and dating while in medical school is kind of the same thing — and more!
In reality, dating in medical school isn't all hearts and roses like in Grey's Anatomy. However, selecting a partner is almost the same as writing a residency personal statement — you must be cautious in choosing the right stuff to secure a successful application!
I won't try to sugarcoat anything because let's face it: dating in medical school will never be easy. You're constantly reading, studying, and ensuring you pass (or ace) all your exams.
Being in a relationship during your medical school journey is just one more thing to add to your already jam-packed schedule. It's obviously challenging to juggle both worlds while not compromising the other.
Not only is medical school time-consuming, but it's also mind-consuming. The last thing you'd want to deal with is a stressful relationship at the end of the day.
Want Better Grades In just 3-Steps?
Get Access To Our Free 3-Step Study System To Get Better Grades With Less Time & Stress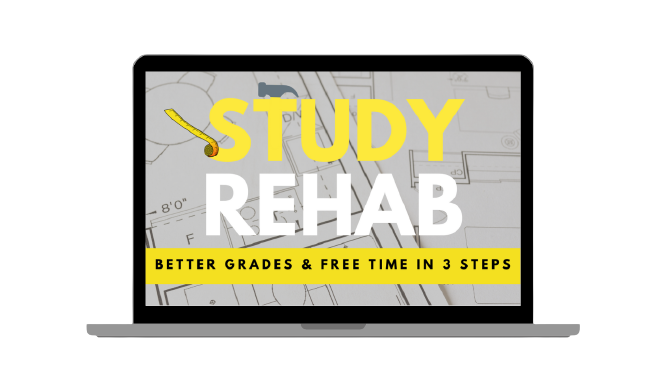 How To Make Dating Work In Medical School?
While there are several reasons why dating and medical school are a hostile combination, there are also positive reasons why it's good to have a partner at times like this.
You probably understand by now how medical school takes long hours of studying, working, and staying up late to the point where it's hard to do social activities anymore.
However, having successful relationships in medical school is also not impossible. Here are some tips I have for you to make them work somehow:
Bonus: Want better grades with more free time (and less stress)? Get access to our free 3-step study system here to see what other top students do that you may not be doing!
Tip #1: Find Someone Who Understands
One of the many reasons couples fight is due to a busy schedule. That's why an empathic partner perfectly matches a medical student.
Having a partner who understands that the relationship is not your top priority can make a lot of difference. If your significant other doesn't take this personally, you're in for a treat.
As a medical student, I'm sure you'd appreciate someone who can contribute peace of mind rather than stress on top of your hectic schedule. Though time is crucial in medical school, never make your partner feel unimportant or ignored.
You can repay your significant other by taking them for coffee dates on your study breaks. It's not that fancy, sure, but the thought counts!
Get The Exact 8-Steps I Used To Get A 3.9 GPA In Med School For Free Below!
Tip #2: Communicate As Often As Possible
If atoms are known to be the building blocks of matter, communication is the building block to a healthy relationship.
For a romantic connection to thrive and survive, constant and effective communication is a must. You have to listen and validate each other's feelings and thoughts.
Conforming honestly and openly with your partner allows you to have a long-lasting bond. Aside from forming a closer emotional connection, it also reduces conflict in the relationship.
Make sure they understand why there are certain times when you can't message your partner. I mean, you can't possibly make time for chatting in the middle of surgery, right?
Again, you're on a tight schedule as a medical student. But it's not an excuse to let disagreements stay unresolved, so communicate as often as possible!
Tip #3: Have Your Partner Manage Their Expectations
Setting unrealistic expectations can wreak havoc in any kind of relationship. Make sure you and your partner understand that your setup isn't the same as regular couples.
It's no secret that medical students are among the busiest people in the world. If you're a medical student or dating one, you know that being in a relationship takes a lot of alterations to make things work smoothly.
There will be times when the choice between going out for dates and staying in to rest is a no-brainer question. Chances are, the latter is the practical option.
Dating In Medical School FAQs
Here are some frequently asked questions about dating in medical school:
Is It Worth It To Date In Medical School?
I'm not the best person to respond to this question. The only people who can come up with the perfect answer are the two of you — the people involved in the relationship.
No two medical students are alike. But let's say you're the kind of student who studies for almost the whole day. With this routine, you must be confident that your significant other understands that you won't get to go out with them as often as they like.
If your partner is totally okay with it, maybe dating while in medical school is worth a shot.
Bonus: Want better grades with more free time (and less stress)? Get access to our free 3-step study system here to see what other top students do that you may not be doing!
What Are The Perks Of Dating In Medical School?
Having a relationship with a doctor sounds sexy, am I right? But note that having a relationship as a medical student and resident is different — they're more intense.
Falling in love with a medical student could be a fear of many, but it's not all bad. Many positive aspects come with dating in medical school.
You might be wondering why you should at least consider dating in the first place. Continue reading to know the considerations.
You'll Have A Sound Support System
After spending the entire day in an incredibly competitive environment, it would be nice to come home to a partner who can help alleviate all the stress you've acquired for the day. In the case of a long-distance relationship, a phone call would be great as well.
This kind of small gesture isn't tiny at all. Having someone who can offer encouragement and support is really healthy, especially for medical students.
Want Better Grades In Med School In Less Time Using Just 3 Steps?

Click Below To Get FREE Access To Our Study Course To Discover The 3-Steps Hundreds Of Med Students Have Used To Increase Their Grades & Efficiency While Studying Less
You'll Get Free Diagnosis And Treatment
Whether you're already a medical student, dating one lets you freely discuss your health and vice-versa. This may sound negative as it seems you're leeching off knowledge for free, but that's the perk I'm talking about.
Free treatments can save you time going to hospitals and possibly waiting in line. Additionally, it's nice to have a conversation with someone in your field — it's like playing a trivia game.
It Creates Balance For Medical Students
With the endless cycle of attending classes, reading course materials, and taking exams weekly, a little break sounds like the best thing to do.
Whatever program you're taking, it's important to seek balance. Finding a romantic partner can help you with all the stress.
You can choose between a fellow student or someone outside the program. Although a peer makes a great companion, someone outside lets you breathe fresh air.
Not only will you have a safe space, but you'll also get to learn outside medicine. My point is you should let yourself be distracted accordingly.
What Are The Cons Of Dating In Medical School?
It's true. Medical students have enough on their plates — classes, exams, and internships — and the last thing they need is some new drama to deal with.
Dating a medical student or having a relationship while in medical school is not easy. Below are the cons that come with it.
An Additional Amount Of Stress
On top of the demands of being a medical student, getting into a relationship means more emotional baggage. Adding a love connection to your stressful situation might create more harm than good.
Most couples fight due to busy schedules, saying there's no time for their significant others. This doesn't only cause stress, but it may also cause distractions that will eventually affect your school performance negatively.
Whether you're a medical student or not, having a significant other should free you from stress, not add to it.
A medical student like yourself has little time to give. Always remember that relationships are not worth it if it causes you stress.
Bonus: Want better grades with more free time (and less stress)? Get access to our free 3-step study system here to see what other top students do that you may not be doing!
The Relationship Is Not A Priority
Compared to ordinary students, medical students have a strict priorities to follow. Career and saving lives will always be at the top of their priority list.
If your partner starts asking and talking about having a family, that's where problems come in. We both know your significant other doesn't mean to offend you, but these types of questions have answers that may leave them heartbroken.
It's no surprise that you'd take down the offer. I mean, most medical students, even doctors, want to make a name for themselves first before settling down.
Jealousy May Occur
Anyone can quickly form a close bond with someone they tend to interact with most of the time.
If you're dating someone not affiliated with the medical field, they might start to get jealous of your peers. After all, you're spending more time with them than your partner.
You must understand that you shouldn't take this behavior lightly because not voicing out jealousy concerns can easily destroy a good relationship.
It takes a bit of creativity and a great deal of understanding to navigate the perfect recipe for dating in medical school. At the end of the day, only you will be able to know if a relationship is worth it and how to make dating in medical school work.
If you are curious to know how to manage relationships in med school with such a hectic day-to-day schedule, check out this article where my wife and I answered questions about being in a relationship while in med school: Relationships In Med School – How To Make Them Work
Get The Exact 8-Steps I Used To Get A 3.9 GPA In Med School For Free Below!
You may be in medical school and you want tips and strategies that will help you avoid pitfalls and become more successful. Study better and have better time management and productivity with the Domination Bundle!
The Domination Bundle is literally all the guides and resources that I have put together when I was in medical school and things that I wish that I used back then. And it's been reviewed by hundreds of students. So check it out here if you're interested.
If you enjoyed reading this article, how about checking out some more medical-related content?
Until the next one my friend…