With Match Day finally behind you, you're excited to start your new journey as a doctor, only to realize you have no idea how to prepare for residency.
In this article, we're going to break down exactly how to prepare for your first year of being a brand new doctor. Let's get into it!
Wait a minute! If you want this post in a video format, you can check out my YouTube video below! Make sure to subscribe for weekly content and leave a comment if you enjoy this one!
As of the making of the video, Match Day just happened. I was excited to see people on social media find out where they will go for residency for the next three to seven years of their life.
And as I was going through those posts, it definitely brought back memories from my own Match Day, where I found out where I was going for my internal medicine residency.
And so I'm going to use those years and experience to help break down my favorite tips to give to brand new doctors and interns, to really help you prepare and become a superstar physician from the get-go.
And if you get some value from this and you want more, then I definitely recommend checking out our Intern Survival Guide. It contains a lot more details and step-by-step advice on pretty much everything that you need to excel in your first year as a physician.
Tip #1 Create A Backward Hit List
One of the most common questions that I get from fourth-year med students that are about to go into residency is this:
"How do I prepare before my first day on the job?"
And the simple answer is that, first, you have to accept that you're not going to learn everything. And second, you have to really know the things that are going to make you the most uncomfortable from day one. And there are a lot of them.
The first tip is to create a hit list of all the things that you don't know.
For example, when I started residency a few things that really made me uncomfortable included things like ventilators, pressers, and pain management with things like opioids. These are things that you don't really deal with enough as a medical student.
This also includes diseases that you just didn't get to see enough in medical school. For me, those were things like sickle cell, as well as some OB-GYN emergencies.
This list will contain really broad topics, like antibiotics, as well as things that require daily practice, like reading a chest x-ray and EKGs, or whatever it may be for your particular field.
But the first step you have to do is to create that hit list and be okay with adding things as you come up with more.
Now, once you have some kind of outline for your hit list, the next thing you have to remember is that the goal is not to get through everything by day one. But the goal is to go through it based on your level of confidence.
So the things at the top of the list should be the things that worry you the most.
For example, if you're not comfortable with dealing with pain management, pressers, or ventilators, then make sure that those are the first things on your list.
And the things that you somewhat feel comfortable with but might want to review before your first day on the job should be on the latter part of the list.
Want Better Grades In Med School In Less Time Using Just 3 Steps?

Click Below To Get FREE Access To Our Study Course To Discover The 3-Steps Hundreds Of Med Students Have Used To Increase Their Grades & Efficiency While Studying Less
Tip #2 Transition To Becoming Problem-Focused
Now tip number two, going into your first year as a brand new physician is that you have to transition to becoming problem-focused.
Typically, medical school teaches a lot of how to take a good history and how to take a good physical exam. And then we spend some time on the assessment and plan.
Just because we're learning about the medicines, we tend to spend the least amount of time there. But that's really where the value of being a new doctor is going to be.
So the first thing that I always try to teach my new interns is to ask "What is this patient's main problem?", or "What are their first two to three problems?".
Before you even read their H&P or ask the patient how they're doing, you can quickly look through their charts, their vitals, their medications, and then descriptions from the emergency provider, to really get an idea of the reason this patient is coming to your service.
After identifying the top two to three problems, then you can ask:
"What workup do I need to do for each problem?"
"What treatments or PRN treatments do I want to start doing for each of those?"
This allows you to already start getting into doctor mode. There will surely be instances as a brand new doctor where you're going to have a lot of patients getting admitted at once and you may not have enough time to think about the entire patient at that time.
So the important things to ask are:
What are your problems like? Are you having shortness of breath? Are you having chest pain? Are you having a fever? Are you having pneumonia?
What are the top things that I'm considering? How do I want to work them up? How do I want to treat them?
And then you can put those orders in and then use that as a structure of quickly finishing your notes, and then taking care of that patient.
Bonus: Want better grades with more free time (and less stress)? Get access to our free 3-step study system here to see what other top students do that you may not be doing!
Now, this by no means is an easy thing to learn. I, myself, am still learning three years into residency.
But it is something that helps me get into the mindset that, whenever I see a patient, I simply start to ask what are the two to three things I'm going to do. The benefit of that is that you are going to get better at identifying problems.
Also, during your first few months of being an intern and a brand new physician, you will not be able to know all the things to order, take care of, or consider for a specific problem.
You may see a patient that has shortness of breath and your differential's going to be very short. But as you do this more and more, your upper levels and your attendings are going to be able to help you broaden and then narrow that differential.
That helps you understand what treatment modalities and workup modalities you have available to you.
So the more that you practice this problem-focused mentality, you'll realize that your confidence as a brand new physician is going to skyrocket once you start seeing the same problems over and over again.
Tip #3 Simply Go Through The List Slowly But Surely
And then step number three is to go through the list slowly but surely.
Again, the goal is not to get through your entire list by day one, but simply to get through those bulky anxiety-provoking topics while you're still working on the next things on the list.
And that also means having a schedule that's very easy to say yes to in terms of getting through that list.
So as a fourth-year med student or somebody about to start residency, you likely have a few months where it's really much more important to relax than it is to try to get through your list and make it cumbersome as if you're preparing for a board exam.
So instead, I would recommend going through your list two to three times a week. Let's say, on Monday, Wednesday, and Friday, you cover the next thing on your list.
And again, if your hit list contains topics that require a daily amount of practice, like learning EKGs or chest x-rays better, that's completely okay.
A simple way to do this is that once you decide you're going to commit to studying three times a week, you may allot the first 10 or 15 minutes to these topics.
For example, on Mondays, I'm going to do 15 minutes of EKGs. On Wednesdays, I'll do 15 minutes of chest x-rays. Maybe I can read two or three and then get some feedback based on what I missed.
And then on Fridays, I'm going to repeat the process. You can spend the remaining time going through the other things on your hit list.
Again, this is a very easy-to-commit structure and all of it is designed to just get you through the next boulder that is in your way before you get onto the next one that's a little easier to process.
If you're interested to know my favorite resources to really make medicine a lot easier, then go ahead and check out this video: How I Learn Medicine As A Doctor [Step-By-Step]
Get The Exact 8-Steps I Used To Get A 3.9 GPA In Med School For Free Below!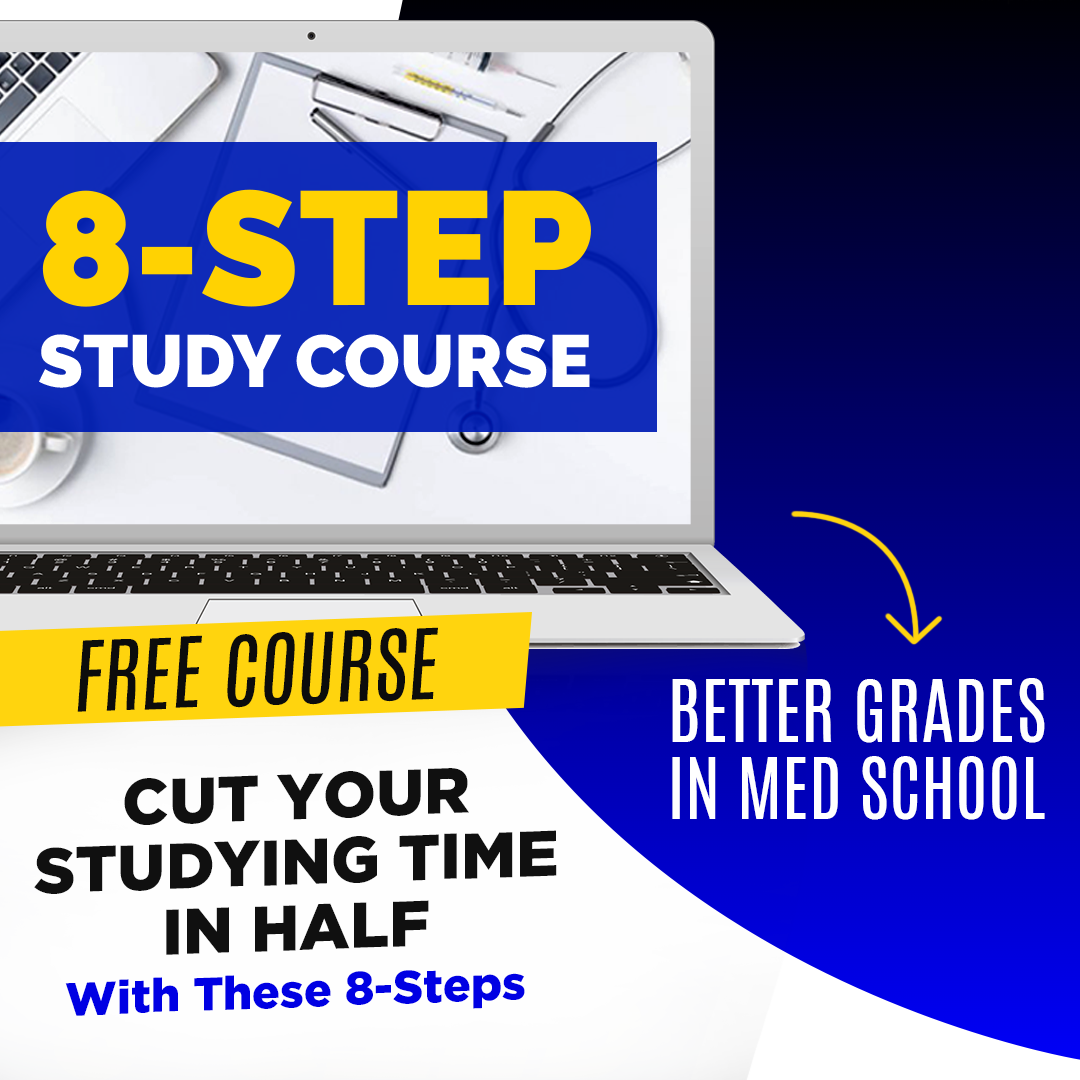 Tip #4 Keep Asking How To Become Faster
Tip number four is that you have to keep asking this question: "What would it look like if it was faster?"
In addition to being confident with the material, the thing that limits most interns is inefficiency.
How do I get my notes done in time? How do I see my patients in time? How can I have a good workflow that's consistent and predictable?
How can I not let all the pages, nurse requests, patient requests, and requests from my seniors and attendings, pile up? How do I do my work efficiently and still learn to become a good doctor?
The thing that's really helped me as well as the interns that I worked with is that they start to ask themselves this question:
"What is the thing that is causing me to be the most inefficient?"
Is it my note writing? Is it taking too slow? Is it taking me too long to see my patients? Is it too long to put my orders in? Am I getting distracted? Where is the biggest issue? What is the biggest boulder that I need to move?
And then start asking, for example, what would it look like if my note writing was the thing that was causing the most inefficiency? What would it look like if it was faster?
Well, maybe I can start writing the problems before I even see the patient and start practicing that mentality that we talked about earlier.
If a patient is short of breath, there are going to be the same things you're going to do. For example, you most likely need to order things like a chest x-ray or a breathing treatment if you know that they have asthma or COPD.
When I was an intern, things like note writing and seeing my patients in the morning definitely started to be the biggest reasons for my inefficiencies.
So I started asking, what would this look like if I write my notes faster? How can I make my patient interactions more efficient and more focused on making sure that they're being helped?
And doing that resulted in small improvements.
Some things I would try and it wouldn't really budge the needle at all or even make things worse, but then sometimes I would try something and it would work.
And you only need to repeat the process over and over again. And then you realize you become this super-productive machine without getting rid of the high quality of service you provide your patients.
And the biggest benefit of all of that is that now you have a lot more time to actually learn the medicine required to take care of your patients and just feel more of a sense of relaxation.
The biggest thing that has helped me avoid burnout in my last three years is that I was able to focus on efficiency and then learn the patient care.
And now I'm both efficient and overall competent in taking care of my patients. And don't feel like I have to spend a lot of time doing either of those.
Tip #5 Create A Goal For Balance
Tip number five is to create a goal for balance.
I'll share the biggest discrepancy that I see between third-year residents who really feel like residency was amazing and those who just want to get it over with.
I consider myself in the first group. Those in the latter group are people who are dreading the process and who already hate their jobs in their late twenties, which honestly seems a little crazy to me.
The people who really enjoyed residency had a life outside of it, despite residency getting really crazy with hours.
For example, how can I make sure that I'm focusing on my fitness? Last December, I made sure I had enough time to train and run my very first marathon despite having a busy residency schedule.
That allowed me to feel that my doctor life is growing, my knowledge life is growing, my relationship is growing, my personal fitness is improving.
All of those have helped me feel like a more improved person by the time my residency's over, not just somebody who has worked their butt off to become a better physician while the rest of their life has been kind of left in the dust for the past three to seven years.
Get The Exact 8-Steps I Used To Get A 3.9 GPA In Med School For Free Below!
Start creating a goal for balance from day one. If you have important people in your life, make sure to give them time despite being busy in ICUs or in surgeries or whatever you're doing with your life.
If you want to make sure your fitness is still part of your life and you don't want to say that you've gained 15 pounds during your first year of residency, then make sure fitness is still part of it. Either work out two to three times a week and then increase it from there if your free time allows it.
And I encourage you to try to learn about things outside of medicine. These are things like cooking or playing an instrument. My personal favorites include reading about personal finance and investing because there are skills that I need to know in a few months when I already have a salary as an attending.
But all of those can fit into my schedule because I have created the habit of finding balance despite residency being really hectic.
When I'm working 75 hours like I did last week, the main focus is to make sure I get some rest, exercise, and still spend time with my wife with the limited amount of free time I have.
But those weeks where I'm working only about 40 hours, I want to make sure I'm making videos for you, I'm running, and I'm learning about all those other things that are on my list to do.
And overall, that creates a sentiment that, yes, being a doctor has been hard, but it's been worth it.
On the flip side, all those things that I consider to be important are still growing alongside me through this journey.
Bonus: Want better grades with more free time (and less stress)? Get access to our free 3-step study system here to see what other top students do that you may not be doing!
Those are some of my favorite tips to give to brand new doctors. So again, if you match recently or if you match any time in the future, congratulations! It is a big step going forward.
If you want any help as an intern or a first-year physician, on how to succeed and excel a bit faster, then go ahead and check out the Intern Survival Guide.
I'm such a huge geek on learning and teaching those high-efficiency skills. In the Intern Survival Guide, I talk about how to see patients faster, how to write notes faster, how to come up with diagnoses and management much quicker as well as many other skills. Get access here!
As always, my friends, thank you so much for being a part of my journey. Hopefully, that was a little help to you, guys, on yours.
If you did enjoy this article, then check out these other helpful articles:
Until the next one, my friend…