(🚨Attention Hard Working Student🚨)
Want To Become A Top Med Student And Get High Grades Without The Stress, Doubt, And Burnout?
Get Immediate Free Access To Step-By-Step advice On What top Med students Do That You Can Start Implementing ASAP
To Get Better Grades, In Less Time, And With Less Stress!
What Will You Learn For Free?
Learn how I …
Barely passing my exams to getting consistent B's and A's on my exam
Honored nearly all my rotations
Earned 250+ scores on my Step 1 and Step 2 CK exam
Graduated med school with a 3.9 GPA (my school weighed rotations more)
And got into my #1 choice for Internal Medicine residency 
What Results Can I Expect To See?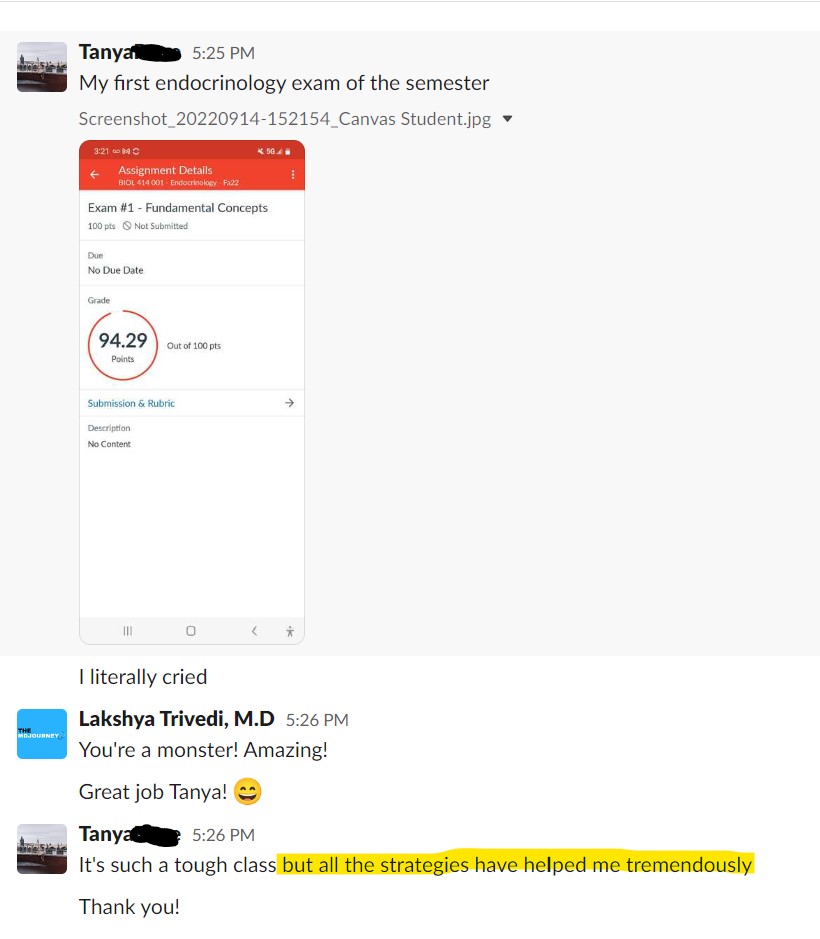 what Do I Get For Signing Up?
Great question!
After signing up (which is free) – you get access to the following:
Instant access to our 30+ tips in our Med School Success Handbook that thousands of students have downloaded
Our free 8-step study course on EXACTLY how I cut my studying by half in medical school
Access to our entire library of free guides and video courses in our Med Vault to help you on your journey
Practical and actionable advice without our Med School Mastery email course (also free) sent right to your inbox so you can be on your way to becoming a top student!
Literally, nothing to lose and so much to gain! (Thousands of students have already taken advantage of tips and strategies that took me years to perfect).
Sign up below!
You have no idea how much this helped me! I was studying near 8-10 hours per day and am now going strong at just under 4 hours! No one teaches how to study like this. Thank you so much Lakshya! (:
Wow, wow, wow! I love the step-by-step approach!Thank you for sharing a variety of techniques! I already feel much more relaxed!
Thank you so much for putting this program together!!! You have already helped me see several weak spots in my study system so far. This is the strategy I could never quite find anywhere else!
Can't thank you enough for making these courses, one week in and my areas of weakness have been made clear and I have identified what techniques and tools I must use instead of wasting my entire getting very little accomplished!
After seeing my problem areas in my study system, I started to make some dramatic changes! Before this was me... after class I was studying until 10-11 in the evening (about 6 hours). After the course, the number is closer to 3.5! I highly recommend the course.
Fantastic guidance for how I can maximize learning from each lecture. It's been really useful for giving me a better work-life balance.
I am a father of 2 and really hoping to streamline my studies to be more efficient and also perform very well. I feel the Level Up Your Studying program has already began to point me in the right direction to make it happen.
I'm just started PA school this semester and am already studying faster than my friends with better grades!
With the help of your course (this is a dream course for any student), I am really determined to improve my study system!