Hope you been planting – money trees that is – because applying to residency is expensive. But you're in luck! In this post, I'm going to show you how to save money on residency interviews.
In fact, using these tips I was able to save over $2000 during my residency application cycle in med school.
Would you like to keep an extra two grand in your pocket? Imagine what you could do with that kind of dough!
Well, that's exactly what I'm going to teach you today!
If you do prefer a video version, you can check out the following YouTube video on the topic!
If you want more videos like this then check out our YouTube channel for weekly advice and tips for med students and pre-meds.
How Much Does Applying To Residency Cost?
Before we talk about saving money, what's the typical price tag of applying to residency?
As of 2018, the AAMC states the average for an individual applicant is about $4000 and near $7000 for those couples matching.
I've seen this number exceed both figures by several of my classmates. They would have saved a ton of money if they had known of some of the following tips.
Want to know exactly how much I spent on one of my residency interviews to the Northeast? Watch this vlog below where I take you with me on my interview and go over the cost!
Remember to subscribe if you enjoy these videos!
Now let's get into how to save money on residency interviews.
1. Save Money On Residency By Mastering Credit Card Points
When you were younger you were told the scary things that could happen with credit cards.
The interest rates, the uncontrollable spending, the debt, etc.
It's actually all true, but today I'm going to show you how to use credit cards to save yourself hundreds if not thousands of dollars.
The first thing you'll need is a credit card – duh.
But don't just use the one your parents got you when you were 18! It pays to shop around.
My favorite card (and a popular card among med students) is the Chase Sapphire Preferred card.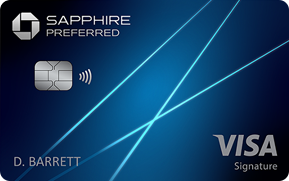 When you sign up for the card you get 50,000 points if you spend $4000 within the first 3 months.
The 50,000 points are worth about $750 in travel credit. 
For most med students spending $4000 is not hard when you account for typical expenses such as rent, tuition, food, transportation, coffee, gas, clothes, etc.
But if you are not sure how to reach that $4000 magic number let me give you a few options.
Gaining Credit Cards By Paying Off Your Tuition:
This method only works if your school does not charge you a fee for using a credit card to pay off your tuition.
But if your program allows this – boy will you rack up a crap ton of points.
My program was kind enough to let me do this and I took advantage.
I signed up for the Chase Sapphire card the summer before the semester started and the tuition was due.
Then I put as much my credit limit allowed to pay my tuition bill. (I started with about $10,000 limit).
The important thing to remember is to make sure the financial aid hits your bank account before the credit card is due. You'll be screwing yourself if you don't watch out for this.
I now had a $10,000 credit card bill and soon after had about $20k+ hit my bank account. As soon as the money was in my account, I paid the credit card bill.
Keep in mind that this is no different than what normally happens. The school just takes out that tuition payment out of your financial aid before it hits your bank.
You've essentially capitalized by serving as a middle man (or woman) and claimed thousands of points.
Not only will you have the 50,000 points that the card offers but also an extra 10,000 from your payment.
To give you an idea 50,000 points can get you a solid 2-3 round trip domestic flights ($750 value). All that for just paying your tuition!
I did this for almost 6 semesters and got almost 75,000 extra (free) points using this method.
Spoiler alert – I never paid for a flight during my residency interview!
So use this method to save yourself some serious money during residency interviews!
Saving Money on Residency Interviews By Paying For Your Rent
Let's say that you can't pay your tuition with a card without being charged a fee. Often the fee is about 3.5%. That on thousands of dollars is not worth the points you'd get in return.
But let's go to another big purchase you likely make – rent.
If your landlord allows you to pay for your monthly rent without a fee then use this method instead!
I was also fortunate to have this option. With a rent right under $1000, I was gathering over 40,000 points after 3.5 years of using the card!
If you are charged a fee, it's worth looking into paying through third-party companies like Plastiq. Currently, their fee is 2.5% (still high) but often they do promotions to lower that rate.
Saving Money on Residency Interviews By Paying For Your Parents
May get some head-scratching after reading that headline but hear me out.
No, I'm not saying support your parents – they're likely still providing for you in some way.
Instead, cover their large expenses for them in exchange for a check.
For instance, my mom just went took a cross country flight to visit her cousin. I asked her to let me pay for it because the Chase card gets 2x points on travel and dining.
Her $300 ticket gave me 600 points and she wrote me a check for the cost. It's a win-win.
On a more grand scale, I recently paid for my family of 5 to fly to India for a trip.
The total was about $6000 dollars and I was immediately compensated by my folks. But that $6000 turned into a nice 12,000 points.
Don't go crazy with this method, but it can surely give you some free points that you otherwise would have missed on. Plus I'm sure your parents will enjoy not paying for a few flights during residency interviews!
Also, keep in mind that you want to leave a nice cushion if you plan on doing this method. Don't max out your card out every month – it'll harm your credit score.
Instead, try to keep your typical usage about 1/3 of your credit limit.
But that's enough about credit cards to save money on residency interviews. Hope these tips showed you the possibilities.
Remember that it's never too late to grow your point portfolio. These methods by themselves saved me over $2000+ dollars.
2. Be Careful Where You Are Applying For Residency
I can give you tips about increasing your money pool via credit cards all day. But all that is useless if you're not careful about how much you're spending.
Where does most of the inappropriate spending come from – careless applying.
This includes applying to more programs than you probably need. And also applying to places or regions that you have no desire of being.
I've lost count of how many conversations I had with peers who stated, "Yeah don't see myself going here but have to be safe."
Yes, safety when applying to residency is important. But too much safety can cost you thousands of dollars!
Each interview can easily be a $500 bill when you include travel, hotel, transportation, and food.
Is that worth it if you know you don't want to be there?
I don't know about you but I'd much rather use that $500 elsewhere!
So if you haven't gone through the application process just yet, please be careful about how many programs you apply to and if you can see yourself there.
Nothing wrong with going on an interview and realizing you don't want to be there. Just don't waste your money, time, and the time of the program for places you won't go to.
This is key if you want to save money on residency interviews!
3. Be Smart About Your Transportation and Housing
Interesting fact – I never took an Uber before residency interviews!
I know it's crazy but I also realized something else – boy are they expensive! I paid $12 for a 5 min drive to the airport and $15 to get back to my place.
Yes, airports are notorious for having high fares but come on! Plus that's bound to be a destination for us during residency interviews.
If you can, take advantage of promo codes for Uber and Lyft to get some free rides. If you have to create a few different accounts, I won't blame you! 😀
Next big cost is housing.
A big mistake many applicants make is to stay where the residency program recommends.
Sure the discount is nice, but I often found hotels nearby for $30-40 dollars cheaper a night.
Also, if you know someone in the city – have no shame in asking for a coach to crash on. That savings can go quite far, so take advantage of your connections!
4. Don't Buy A New Outfit
I get it – save money on residency interviews vs. look good on your interviews. Not that hard of a choice.
But if you have a decent outfit already, there's no need to go out of your way to buy a new one!
I used the same suit I bought in the middle of med school which worked just fine.
What I did buy were some new ties, shirts, and shoes from my local Ross and saved hundreds of dollars for designer brands.
Ladies I can't provide amazing advice on your attire, but I'm going to bet you likely have what you need for your interviews. Just accessorize as I did!
Remember that no one will remember what you wore during the interview. Heck, I almost forgot before I wrote this post (I wore the same suit to all my interviews).
Save yourself a few hundred and avoid the new outfit if you can!
5. Cluster Your Interviews
This is common advice given to help you save money on residency interviews. This is why I saved it for the end.
If you have an interview from one program and have not heard back from a nearby program, go ahead (but nicely) inquire about getting an interview at the same time.
Does it always work? Nope. Often you may not get a response but it doesn't hurt. Plus you'll save yourself another flight and hotel stay if you can make it work!
Just remember to not be obnoxious. One email is enough. If they don't respond then just take the loss and pay for the flight.
If it works you can save yourself some money when applying to residency.
---
Hope you enjoyed these tips on how to save money on your residency interviews. It's a stressful time no doubt, but it can be a little bit easier if your wallet doesn't take as big of a hit.
Have any more tips that I didn't talk about? I'd love to hear! Comment down below so others can also take advantage of your advice!
If you enjoyed this post about applying to residency then I'm sure you'll enjoy the following video on my top tips to crush your residency interviews.
Want more tips about applying to residency, finance, or just succeeding in med school? Then make sure to join our TheMDJourney Mastermind email group! You will be getting awesome tips like this post sent to your email address.
For signing up you will also get access to all our free guides including the following:
how to study Less Than 5 Hours A Day + Free Video Course Demo
How To Crush step 2 ck
how to study Step-By-Step During Rotations
Top Resources for Medical School
Sign up for the TheMDJourney Mastermind group here.
Hope you enjoyed this post about saving money on residency interviews. If you did be sure to share with your peers! Let's help each other save some money!
Until next time my friend…