Are you looking for a scholarship for medical school? I got the things you need to know!
We all know how financially draining medical school could be. You could check my article about the true cost of medical school and see for yourself the amount of cash you need to spend from your cost of living to your actual tuition and fees!
Because medical expenses have been a hindering factor why many brilliant and skilled aspiring doctors cannot fulfill their dream, many schools have scholarship for medical students to somehow ease their financial burden.
Let me help you get a scholarship for medical school.
Bonus: Want a full library of free medical school eBooks, video courses, and training? Click here to get access to your free med school advice library!
How Can I Get Medical School Paid For?
Personal Savings
Of course, start off with money that you don't have to pay back. If you wish to enter med school, you should have at least some saved cash to pay for your medical expenses. It might not be huge enough to cover 50% to 100% of your total medical expenses, but it could lessen your worry about loans at the very least.
Try to create a budget to know how much you could contribute. The budget plan will help you become aware of your expenses and your capacity to pay for them.
Scholarships, Grants, and Financial Assistance
There are medical schools that offer merit or need-based grants. They provide financial assistance to students with a high GPA or those who are experiencing financial incapabilities.
If your school doesn't offer any financial assistance, you might be interested to outsource from non-profit organizations that provide scholarship for medical students.
Later, I'll give you some organizations that could help aspiring doctors like you.
Private Student Loan
These loans are available through banks and credit unions. However, you must be wary of the interest rates which may either be fixed or variable.
To get an idea of how stressful it is to pay off loans and debts, watch this video. Don't forget to subscribe to TheMDJourney channel if you found this video helpful and insightful!
https://www.<a class="wpil_keyword_link" href="https://www.youtube.com/channel/UCeJWTVANVcjUX2BkV3IJtqA?sub_confirmation=1." title="youtube">youtube</a>.com/watch?v=-c_RGsE4JlA
How Can I Get A Scholarship For Medical School?
Since you already have an idea of how costly med school would be, you might be urged to start looking for financial support. And, the most in-demand funding support yet only chooses the best few are scholarships.
Scholarships are usually provided to the most outstanding academically excellent students, those who have service obligations, or members of a particular funding organization. They can cover a significant portion of your medical expenses from tuition to your lodging – even for your daily basic allowance.
The most challenging aspect of scholarships is only a lucky few are qualified. So, among thousands of who need to survive the financial burden caused by medical school, the burning question is how can I get a scholarship for medical school?
Here are a few tips:
Start Your Research Online
Start using the most convenient way – online.
There are reliable websites such as the U.S. Department of Education and The Association of American Medical Colleges (AAMC) with scholarship databases where you could start your search. There are features in which you could look for scholarships that match you.
Never Pay
Don't trust organizations or companies that ask you money to help you get a scholarship in return. No legitimate organization that offers funding support that will ask you for some cash.
Contact Local Agencies or Hospitals
Some institutions in your local community offer financial support to students. In return, they will ask you to serve in the community or hospital through medical means.
Perhaps, you would be involved in the implementation of different health programs. Hospitals will ask you to sign a contract for a specific number of years on employment after residency training.
Select Med Schools That Offer Scholarships or Funding Support
There are several schools that offer scholarships or funding support to their students. Scholarships are given usually based on merit or on their proclaimed financial need. You could check out my article on the true cost of medical schools and see the list of schools that offer scholarships.
Get Good Grades
The majority of scholarship grants are given to academically excellent students. So if you want to establish great credentials to show how deserving you are to receive financial support, you must maintain good grades.
Brilliant minds receive great opportunities.
Which Medical Schools Give The Most Scholarships?
University of Central Florida College of Medicine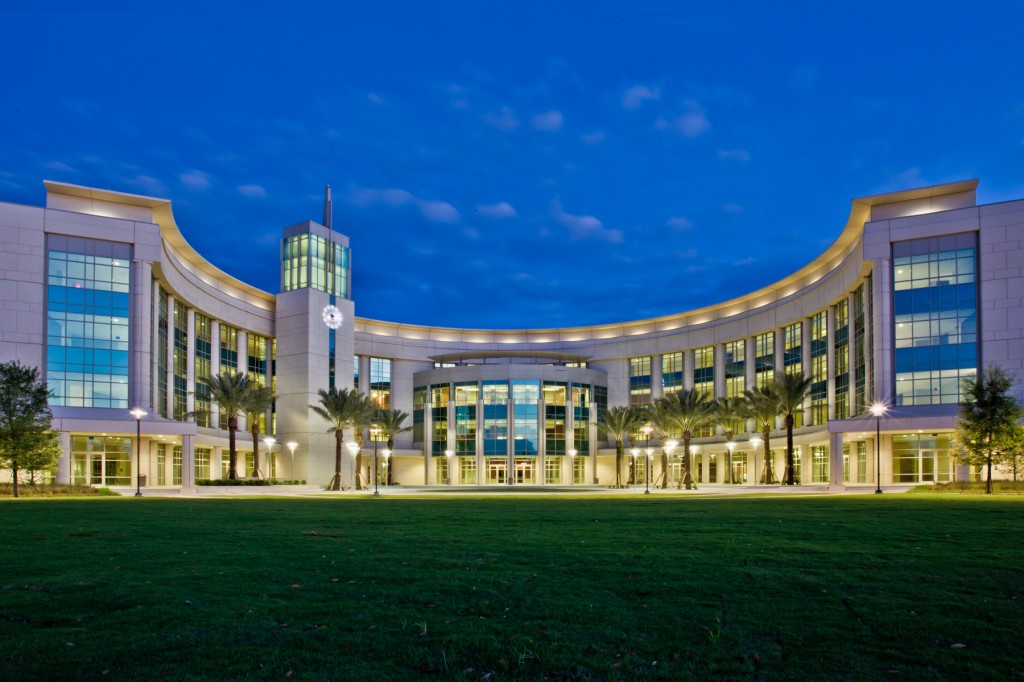 Source: UCF College of Medicine
UCF is historical as it was the first-ever medical school in US history to give a full 4-year scholarship to an entire class. If ever students need money for other living expenses they can avail loans at relatively lower rates. You can easily pay debts in no time even before graduation! It started in 2009 when the entire inaugural class graduated debt-free!
100% of students receive scholarships
100% of students receive financial aid (loans or scholarships)
69% of students receive loans
Average indebtedness: $13,902
University of California, Davis, School of Medicine
Source: UC Davis School of Medicine
95% of students receive scholarships
95% of students receive financial aid (loans or scholarships)
89% of students receive loans
Average indebtedness: $146,756
David Geffen School of Medicine at UCLA
Source: David Geffen School of Medicine
94% of students receive scholarships
95% of students receive financial aid (loans or scholarships)
77% of students receive loans
Average indebtedness: $107,549
University of Kansas School of Medicine
Source: University of Kansas Medical Center
94% of students receive scholarships
97% of students receive financial aid (loans or scholarships)
83% of students receive loans
Average indebtedness: $134,999
University of South Dakota Sanford School of Medicine
Source: University of South Dakota
90% of students receive scholarships
98% of students receive financial aid (loans or scholarships)
83% of students receive loans
Average indebtedness: $142,043
Do Medical Schools Give Merit Scholarships?
Yes, there are medical schools that give full merit scholarships. High ranking schools such as the Perelman School of Medicine at the University of Pennsylvania and the David Geffen School of Medicine at the University of California.
Merit scholarships are so rare and it is only awarded to the most outstanding students. Like what I said earlier, go get some good grades. They could save you from the financial burden.
Here's an informational video to help you climb up the academic ladder and compete to be one of the outstanding students in your class in medical school. Don't forget to subscribe to TheMDJourney channel if you found this video helpful and insightful!
Medical School Scholarships 2021
Tylenol Future Care Scholarship
The Tylenol Future Care Scholarship is offered each year to students pursuing graduate programs in medical school, nursing, pharmacy, or practitioners seeking to pursue a course that involves actively treating patients.
10 lucky students will receive $10,000-worth of scholarship and 25 will receive $5,000-worth of subsidy annually. The scholarship is non-renewable.
If you wish to apply, here is a quick outline of the application requirements. You just need to accomplish and submit the following:
A competitive college GPA
Academic transcript of records in medical school
Community involvement/volunteer service
Essay content
Application Open: May
Application Deadline: July
Semifinalist Status Notification Sent: August
Semifinalist Form Opens: August
Semifinalist Deadline: September
Scholarship Recipients Notified: September
Scholarship Checks Issued: Mid-October
BoardVitals Medical School Scholarship
The BoardVitals Medical School Scholarship awards a $1,000 VISA gift card to 3 lucky medical school students with strong academic performance and a burning desire to become a change agent to improve the healthcare system.
Eligible students must be a resident of the United States who is currently enrolled as a 1st, 2nd, 3rd, or 4th-year medical student in an accredited MD/DO school located in the United States.
If you're interested and you meet all the criteria, you may apply online by filling up a form and submit a 500-word essay or 2-minute video on an issue in healthcare that they would like to fix and/or are passionate about.
Application Deadline: May
Winners will be announced: August
White Coat Investor Scholarship
The White Coat Investor Scholarship "help those who wear the white coat a fair shake." Every year, they provide financial support to deserving full-time students with good academic standing through their own profit and additional contributions from sponsors and readers.
Some courses that are eligible for the scholarship include medicine, osteopathy, podiatry, dentistry, law, pharmacy, optometry, physician assistant, nurse practitioner, CRNA, and veterinary medicine.
The application is simple. Just submit a document containing your basic information such as your name and anticipated degree and date of graduation. You also need to submit an 800-1,200 word essay about any topic under the sun that interests you.
Application deadline: June to August
Physicians of Tomorrow Awards
The Physicians of Tomorrow Awards provides scholarships for medical students with outstanding academic records. 10 deserving students will be awarded $10,000.
To be eligible, you must be a 3rd-year medical student, nominated by your school dean, and able to submit the application form that includes a letter of recommendation, a personal statement, school transcripts, and proof of your financial status.
Herbert W. Nickens Medical Student Scholarship
Herbert W. Nickens Medical Student Scholarships selects 5 outstanding incoming third-year medical students to receive $5,000 scholarship grants.
They are looking for young soon-to-be medical doctors who aspire to lead in efforts that eliminate inequalities in medical education and health care and at the same time prioritizing the marginalized and vulnerable minorities in the US.
To apply, you must submit your dean's nomination letter indicating that you have maintained good grades during your first two years in medical school. You must also submit a letter of recommendation from the medical school's institutional GSA diversity affairs officer or from the medical dean and another one from a faculty member.
You will be required also to submit a personal statement stating any experiences or initiatives you have done to eliminate inequities in medical education and health care for minorities.
USA Medical and Surgical Scholarship Program
Source: USA Medical and Surgical Supplies
Another scholarship for medical students is the USA Medical and Surgical Scholarship Program. It gives out scholarship awards worth $1,500 bi-annually to college and university students taking health-related courses.
To be eligible, you must be studying Medicine, Therapy, Emergency Medical Services, Laboratory Science, Medical Technology, Nursing, Health Care, Pathology, Radiology, Diagnostic Imaging, Pharmacy, Psychiatry, Psychology, Social Sciences, or other health-related disciplines.
If you are interested, you must submit an essay on how medical supplies or equipment has the biggest impact on healing, improving, or extending human lives. The essay must be at least 1,200 words, original, relevant, and high quality.
National Health Service Corps Scholarship Program
If you are looking for a scholarship that offers assistance for the entire 4 years of your medical education, then apply now to the National Health Service Corps Scholarship Program. They will cover your full 4 years of medical school tuition, fees, and a living stipend.
In exchange, upon graduation and licensure, you need to serve in rural, urban, and tribal communities with limited access to care. The number of years they subsidized your tuition determines the number of years of your return service.
You must also practice in an NHSC approved site which includes federally qualified health centers, rural health clinics, private practices, and other select institutions.
Eligible awardees are those who take healthcare-related courses and aspire to become a primary care physician, dentist, nurse practitioner, certified nurse-midwife, or physician assistant.
If you wish to be a recipient of this generous offer, you must complete their online application. Upon review, the judges will choose the most deserving recipients based on several factors such as academic standing, financial status, and proven dedication to serving the underserved.
National Medical Fellowships' Scholarships
The National Medical Fellowships' (NMF) scholarships provide special financial support to medical students who belong to minority populations such as African Americans, Hispanics/Latinos, Native Americans, Asian-Americans (Vietnamese and Cambodian only), and Pacific Islanders. Scholarship grants may range from $5,000 – $7,000.
Each NMF award will be given out based on academic merit, demonstrated leadership ability, and a commitment to serving medically underserved communities.
James "Rhio" O'Connor Mesothelioma Scholarship Fund
The James "Rhio" O'Connor Mesothelioma Scholarship offers a monthly grant of $1,000 to eligible medical students. To apply, you must submit a 700-1,500 word essay about healthcare concerns or insights related to cancer that you are interested about.
The HYMS MSc Scholarship
The Hull York Medical School (HYMS) offers three MSc scholarships for UK/EU, overseas and international students who would like to pursue medicine.
Applicants to the MSc in Clinical Anatomy must have previous training in human or mammalian biology. A total of £10,150 is awarded to successful students.
Deadline: July annually.
If you need more tips on how to get scholarship grants, you may want to check out this book Medical School Scholarships, Grants & Awards: Insider Advice on How to Win Scholarships. It includes advice that will help you overcome the financial burden brought by med school.
______________________________________________________________________________
That's a wrap on this article on scholarships for medical school in 2021! I hope this blog post has given you substantial insights into how you're going to handle your medical tuition, fees, and day to day expenses through chasing opportunities that will help ease your financial burden.
If you have enjoyed this post, why not check out some of our other blog posts filled with great content?
If you want access to our full library of guides and free courses for med students, check out the Med Vault!
This is a completely free library of step-by-step eBooks & video courses that can help you on your medical journey!
Succeed In Med School With Less Stress
Get Access To A FREE Library Of Free Guides, Video Courses, And Resources To Help You Study Faster, Be More Productive, And Remain Stress Free
Get access to the Med Vault here.
Also, if you want a full blueprint to get into medical school without all the stress? Check out the full Pre-Med Blueprint program here.
Lastly, I have written The Pre-Med Journey to serve as a step-by-step guide for getting into med school.
I provided effective personal strategies on how not to just survive but also ace med school. I'll also warn you of the things that you must avoid such as inefficient study habits and unproductive and passive reviews.
Check out my book here on Amazon.
Again, thanks for stopping by!
Until next time, my friend!