Through the years, smartphones have become more popular in medical education due to their usefulness in communicating, obtaining medical literature, and managing patient records. However, with the never-ending brand options, there has always been confusion about which is better for medical students: iPhone vs Android.
Luckily, I will help you answer this question by enumerating iPhone's and Android's similarities and differences. Which will reign supreme between the two?
Read ahead to find that out!
Is An iPhone Good For Medical Students?
Among numerous smartphone brands, an iPhone has been one of the best picks medical students can have. According to a study, this device has the potential to achieve an acceptable viewer for X-ray, MRI, and other images.
It also supports a clear scanner for taking glucose readings from strips of nanosensors under the skin. Moreover, although with caution not to rely on it alone, an iPhone can assist in diagnosing malaria and E.coli infection.
Once you put a microscopic lens on your Apple device, you can enlarge images to see tissue abnormalities and some diseases. Then, you can share these findings with any iPad or Macbook due to iPhone's excellent integration.
These devices also support emails, messaging, and video calls, allowing medical students to communicate with each other. They can also be significant in managing and updating the medical records.
Aside from that, iPhones only support accurate and reliable medical-related applications. Since they have stricter standards, they are less prone to cyberattacks, malware, and viruses, giving you a more secure experience.
iPhones also have a simple and elegant interface. Thanks to their top-notch applicability and features, these devices can hold value longer and have higher resale prices.
[Free Download] Want to have everything you need to be a top student on your medical journey? Get FREE access to our Med School Success Handbook to get 60+ tips including the best study, time management, mindset tips you need to be a top student. Download it here.
Is Android Good For Medical Students?
If you want an option other than iPhones, multiple Android brands with excellent specifications are available today. You can use them to access and update medical records, reducing the risk of misplacing and losing them.
Android phones can also help medical students communicate and collaborate with healthcare professionals and their professors. They can share patient data, video conferences, or send emails.
Like iPhones, Androids also enable access to images from a database, eliminating the need for physical CDs and films. If you want to copy your files to a computer, you can quickly connect it to any unit because it will mount as an external drive.
Furthermore, you can find more medical-related applications in Android because it has open source and less strict standards. Purchasing apps is also cheaper compared with an iPhone.
More importantly, Android phones have no issues downloading content. They are affordable, more accessible, and easier to use, even for average individuals. If you hate receiving notifications while studying, you can disable them easily on this device!
iPhone Vs Android For Medical School: Which Is Better?
Indeed, iPhones and Android phones are excellent devices that can assist medical students with their endeavors. They possess unique features for accessing online resources, taking notes, watching educational videos, and similar activities.
However, which should you choose if you are to select one? Read more of our detailed comparison below to help you decide.
Build Quality
When looking for the best smartphones for medical school, the foremost thing to consider is their build quality, for it affects the user experience as a whole. Fortunately, both iPhone and Android have undergone design changes through the years.
iPhone devices have maintained their minimalist and sleek design. Nevertheless, they use higher-quality materials like metal and glass to make their new units sturdier than the previous ones.
On the other hand, Android has experimented with various designs and forms, creating more device options, ranging from budget-friendly to more premium phones. You can find some with polycarbonate or plastic bodies and some with glass or metal backs.
While both devices continuously improve as years pass, an iPhone is still more durable and long-lasting than Android. It uses better materials, and the company imposes stricter quality control measures when producing its units.
Hardware Diversity
One thing that makes Android better than the iPhone is its hardware diversity.
Typically, an iPhone revolves around its single line of Apple smartphones. They only change display sizes and add more color schemes but suit anyone, regardless of job or age.
Meanwhile, Android is available on a wider range of hardware, including those with bigger screens, longer battery life, styluses, or even a physical keyboard. It can be a more beautiful choice because you can always find units that suit your preferences.
[Free Download] Want to have everything you need to be a top student on your medical journey? Get FREE access to our Med School Success Handbook to get 60+ tips including the best study, time management, mindset tips you need to be a top student. Download it here.
Software And Apps
iPhone and Android possess strengths and weaknesses in software and app selection.
For instance, an iPhone is a better choice if you want safe and reliable applications because its app store is popular for its strict guidelines, ensuring all apps comply with the quality standards. Many medical app manufacturers also say rejection is common in iOS because Apple only accepts those with accurate content.
Furthermore, iPhone apps have fewer bugs and more consistent designs. The only drawback is that they may lack various features that you can find in Android.
In contrast, Android has a more open-source platform and lower barrier, allowing more app developers to publish their new applications. You can have a more diverse selection, but you cannot guarantee that it will be free from bugs and crashes.
So, if you want more customization and wider choices, you can opt for Android devices. Yet, if you prefer reliability, consistency, and security, iPhone devices are better.
Manufacturer Service
It is common to encounter problems with your smartphone when you use it for too long. When such a thing happens, you may want to look for a repair service immediately because having no phone can disturb your study session.
Luckily, iPhone has many specialized stores or Power Mac Centers in different places, enabling you to find a team to resolve any iPhone-related conflict easier and quicker.
Meanwhile, since there are many brands for Android, you can take some time to find a representative office for your device, especially when the brand you chose is less popular than Samsung or Xiaomi. Nonetheless, you can guarantee that fixing an Android is cheaper than an iPhone.
Battery Capacity
It is well-known for many smartphone users that an iPhone's battery capacity is relatively smaller than Android devices. Also, its power consumption increases when you constantly turn your mobile internet on and keep your study apps open.
Hence, if you want a device with more varied batteries, Android is a more advisable option. They can last longer and maintain the display and full OS better than Apple units.
Camera Quality
When you are a medical student, there can be many instances where you will use your phone to take pictures of your lectures and send them to your classmates.
Thus, I recommend opting for iPhones because they have top-tier camera quality and capabilities, which captures like professional cameras. They support macro photography for more colored and sharper images.
Besides, taking videos with iPhones is clearer and more stable than Android because they can shoot up to 4K resolution.
Slots
You may also want to consider the slots for SIM cards when choosing between iPhone and Android. In this case, most of the latter's brands have two, while the former does not.
The only way to have two slots in an iPhone is to purchase an iPhone 13 or 14 or get an e-SIM. Unfortunately, that will be more expensive.
As for the charger ports, an iPhone has an exclusive connector that only works with Apple devices, while Android has a micro-USB or type-C charger. An iPhone also has no jack slot, making it unable to listen to music while charging the unit unless you have wireless earphones.
Do Doctors Use iPhones Or Androids?
With all these noteworthy features from both brands, which has been popular among practicing doctors and other healthcare professionals?
Based on 2014 research, 80% of physicians have iPhones, while 20% use Android phones. They share that they usually utilize these devices to communicate, record health information, access medical resources, and use clinical software applications.
A UK 2017 study likewise states that 75.6% of the doctors and 58.4% of the nurses in the country use iPhones. Many medical students also note that they own iPhones to install medical-related applications for diagnosing diseases and retrieving online resources.
Moreover, Doximity, a social networking service for physicians, reports that 85% of their customers are iPhone users.
With that said, we can agree that healthcare professionals often prefer iPhones more than Android phones.
[Free Download] Want to have everything you need to be a top student on your medical journey? Get FREE access to our Med School Success Handbook to get 60+ tips including the best study, time management, mindset tips you need to be a top student. Download it here.
To conclude this article, let us have a final pick between iPhone and Android.
As you have read earlier, both devices support medical-related applications and capabilities that can be significant in your study sessions and activities. They allow you to take notes, set timetables, and read information online.
Nevertheless, iPhones are way better than Android in security, camera quality, customer service, and sturdiness. They also make no opportunity for viruses and cyberattacks to occur.
However, I still recommend Android phones if you want something cheaper and more diverse. Besides, it can offer almost the same things iPhones have if you choose the best Android brand and unit.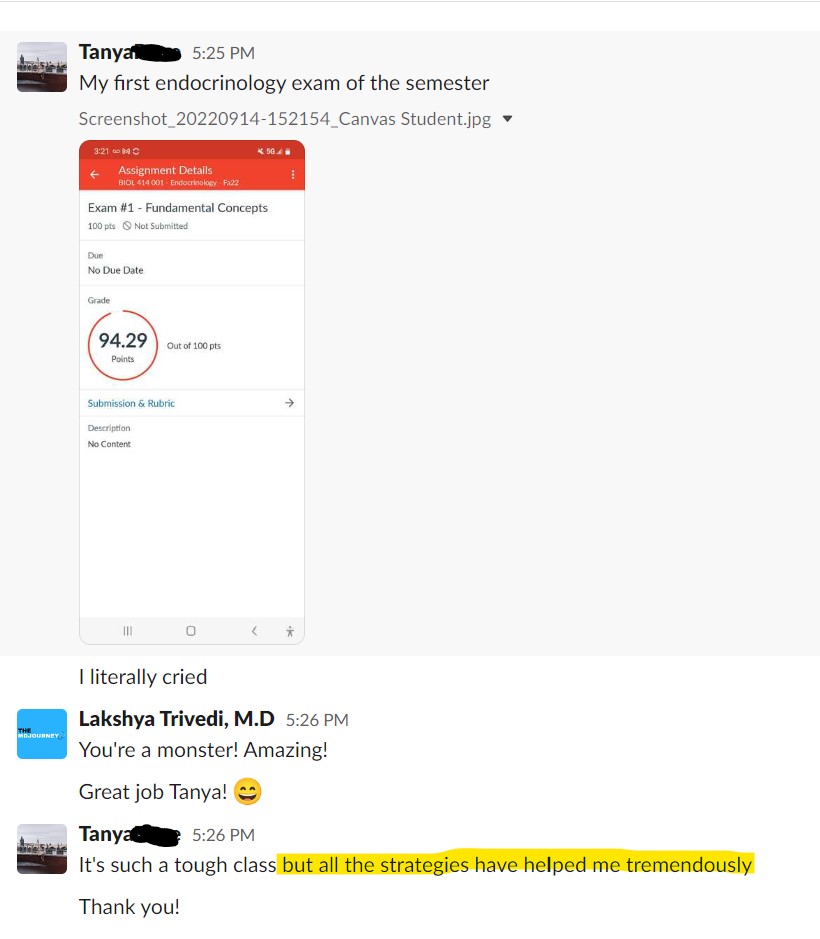 Download The Free Med School Success Handbook For The Best Step-By-Step Tips For Your Medical Journey!
Did you find this post helpful? If yes, here are more informative articles to help you know more about studying in medical schools:
Until the next one my friend…