One of the necessary tools you need to survive and thrive in med school is a stethoscope. It will probably be required from your first or second year so choosing the right one early on is vital. 
As always, I'm here to help you out! 
In this article, I'm going to give you the top 5 stethoscopes for medical students that you can consider using. 
But first, let's hit some of the FAQs on how to choose a stethoscope below:
How To Choose A Stethoscope For Med School?
Like any purchases you make, there are some things to consider when buying a stethoscope. Here are some of the most important ones for me!

Quality
A quality stethoscope is usually one made of stainless steel for excellent acoustic performance, sound quality and resistance to bacteria. 
Preferably, its earpieces are made of silicone and not plastic, and has a good noise-canceling feature.
This noise canceling function is huge when you're in a loud hospital room listening for a murmur or faint lung sounds. 
Trust me – don't skip out on the quality! You're going to have this stethoscope for years and want it to be a tool and not just a discount hardware. 😀
Durability
The durability of the stethoscope is just as important as its quality. You don't want to always send it for repairs or replacements, do you?
If you have the budget, find one with premium components. With the right care, you can even take a well-invested stethoscope in your future hospitals or clinics after graduating.
Otherwise, opt for a budget-friendly option that's still durable, flexible, has a chest piece that isn't too heavy, a tube that's not too short or too long, and has a warranty to back it up.
Most importantly, take care of your stethoscope so it can live up to its maximum life span. 
Fun fact, I still have my original box for my stethoscope with the extra ear pieces. 
You can see the one I've been using for the last 4 years here. 
Price
While price does not necessarily equate to quality, do not immediately resort to the cheapest or the most expensive stethoscope!
Weigh your options and go for the most cost-efficient one. That is; a stethoscope with good quality that serves your current need as a medical student and can last for years without you breaking the bank. 
If you happen to start med school with a cheaper version, that's okay. Maybe you received it as a gift or just didn't have the money.
I'd still recommend saving up for a higher quality one before beginning your clinical rotations. You'll need it more then to better hear heart and lung sounds.
What Is The Price Range For A Stethoscope?
A stethoscope can cost anywhere from $5 to $1000 or more depending on the brand, features and the material used.
But you don't have to splurge out $1000 on a steth at all! (Like who has that kind of money to throw around anyways?)
As a student, you'll probably be needing a standard or general use stethoscope to listen to the most common sounds. Price is anywhere between $30 and $100. 
If you're within a $20 budget, there too are decent stethoscopes you can find in the market. You can see a list of the best low price stethoscopes below! (Although I'd recommend going from one in my top 5 list below.)
However, if you work in Emergency Care, Pediatric Care or Cardiology, you'll probably need one with better sound auscultation and higher frequency range. That is so you can hear the faintest audible sound that would otherwise be difficult to hear with a standard stethoscope.
I suggest going for steths within the 0-190 price range as those beyond it won't give you more advantage on daily med school use.
If budget isn't an issue at all, then go for a top-quality steth (probably digital or electronic) that can last for many years instead of one with just the aesthetic advantage.
Note: My stethoscope was about $150 and still works great to this day! Check it out here. 
What Are The Types Of Stethoscopes?
Type 1: Cardiology Stethoscope
Have you ever seen a steth with shorter and thicker tubes? That thick and comfortable looking steth is probably a cardiology stethoscope. 
A cardiology stethoscope, however, isn't only used by practitioners in cardiology and cardiovascular surgery for its look.
The thicker and shorter tubing alone is made for better auscultation and more optimized sound quality. This allows doctors and nurses to hear high and low-frequency heart sounds which may be vital in their patients' care. 
So how does it differ from the regular one? 
A standard stethoscope allows you to listen to a heartbeat, fluid in the lungs, and more. 
On the other hand, a cardiology stethoscope enables you to hear the faintest heart sounds such as rubs, clicks, murmurs and even the pumping of blood through the valves of the heart. 
Type 2: Pediatric Stethoscope
A pediatric stethoscope is recognizable primarily because of its smaller chestpiece size and more child-friendly color and design.
The chestpiece is smaller to allow a more accurate placement on the chest. Ultimately, this would translate into properly diagnosing the pediatric patients which may be sacrificed when a standard adult stethoscope is used. 
The child-friendly design is more for the psychological benefit of the children as it soothes and pleases them. Thus, they're less likely to be frightened when assessment comes. 
Type 3: Infant Stethoscope
This is an even smaller steth than the pediatric stethoscope. Its chestpiece size is around 2.6cm in diameter and is specially intended to monitor and assess the condition of infants. 
Since the chestpiece is smaller, auscultation is also more accurate. Thus, practitioners can hear the infant's heart and other body sounds more clearly.
It also mostly incorporates a latex-free body to prevent allergic reactions and a non-chill rim to prevent any shock during the assessment.
Type 4: Neonatal Stethoscope
A neonatal stethoscope is the one doctors used to check on you when you were born. Its main difference with the Pediatric and Infant Stethoscopes is the chestpiece size which is around 2cm in diameter. 
Yet again, this difference is size then translates into more accurate auscultation and less noise interference making it the best steth for diagnosing and assessing newborns.
Much like the infant stethoscope, a neonatal stethoscope also features a non-latex construction and a non-chill rim to best cater to the sensitivity of a newborn. 
Type 5: Fetal Stethoscope
As its name suggests, a fetal stethoscope is used to monitor an unborn child's condition mainly by monitoring its heartbeat and breathing patterns. 
If you're expecting a baby, your doctor will probably listen to your baby's heartbeat using a fetal steth at around week 20 though he/she may also recommend doing other ultrasound tests to evaluate the fetal heart better.
In terms of how its looks, a fetal steth is most notable for its specialized bell that's placed against the belly. It also has a headrest and extremely sensitive earpieces that magnify the sound under the bell area.
Type 6: Acoustic Stethoscope
Acoustic stethoscopes are the most common types of steths that rely heavily on the unpowered principle of acoustics. It transfers sounds from the body through the vibrations created in its hollow tubes. 
Because sound waves can be contained in the tubing, you can hear more sounds louder than you would when placing your ear on the patient's chest. 
However, this can post a challenge in noisy environments or when listening to low-frequency sounds. 
Type 7: Electronic Stethoscope
Electronic Stethoscopes were created to address the sound and volume challenges of acoustic stethoscopes. 
They can amplify sounds better by translating the sound waves into electronic signals and optimizing the sounds for better listening. 
Many electronic stethoscopes also offer additional features such as allowing you to choose a frequency and reducing background noise. 
With them, you can easily detect faint sounds and apply filters to various sounds to facilitate fast diagnosis. 
Where To Buy a Stethoscope? 
Some schools provide their students with stethoscopes. Unfortunately, I don't think this is the case for many. 
But worry not as you can easily purchase one either at physical stores or online.
Don't have time to go around stores? Then just head to Amazon.com, Ebay.com or Overstock.com.
There are hundreds of stethoscopes you can find online. (All of my recommendations will have an Amazon link so you can easily check them out! In fact, check out my personal sthethoscope here!
Walmart and Walgreens are good places to start looking offline. If you can't find them there, look for specialty stores such as the Home Medical Supplies and US Med LLC that sell medical equipment.
Don't forget to research and do your due diligence for a worthwhile purchase!
Now, let's get right into the top 5 stethoscopes for medical students!
Top 5 Stethoscopes For Medical Students
Based on reviews, recommendations and my take with the products, here are the top 5 stethoscopes for medical students.
Among the current favorites of medical practitioners and students in Littmanns' line of stethoscopes is the 3M Littman Cardiology IV. 
If you plan to work in the ER, cardiology or critical care field, this is probably one of the best options for you! 
The device is designed so you can hear the very subtle changes in the patient's cardiovascular system even when the environment is full of noise and distractions. 
It is made of a dual-sided stainless steel diaphragm which is tunable so you can hear different frequencies of sounds without re-positioning the chestpiece. 
Its high-end dual lumen tube design also helps isolate the sounds better and remove unnecessary noise. 
As compared to Classic III, Cardio IV's chestpiece is 40% larger and its bell is 60% deeper making it better in external noise reduction and in isolating low-frequency sounds. 
Check out what others think about 3M Littmann Cardiology IV Diagnostic Stethoscope here!
Pros:
Best for critical care field and challenging environments

Tunable double-sided stainless steel chestpiece  

High-quality dual-lumen tubing
 Cons:
Premium pricing ($178 on Amazon)
Check out reviews on Amazon here!
See Reviews On Amazon
Another top-quality cardiology stethoscope is ADC Adscope 600. Not the most affordable one, but I'd say it's worth a try!
This steth features an adjustable frequency design for enhanced acoustic performance.
Like all of our top 5 stethoscopes for medical students, it has a machined surgical stainless steel chestpiece and a high-performing headset with aluminum binaural and silicone ear tips.
With the features mentioned above, you can ensure an acoustic precision while benefiting from a comfortable wear. 
The best part? Your purchase comes with complimentary diaphragms, ear tips, scope ID tags, and a lifetime warranty! Confirm it yourself here on Amazon!
Pros:
High-performance stainless steel cardiology stethoscope 

Adjustable frequency design

Aluminum binaural and silicone ear tips
Cons:
Mid-range pricing ($132 on Amazon)
Check out review from previous students here. 
See Reviews On Amazon
If you ask other medical practitioners for a recommendation, they'll most likely say Littmann Classic III. True enough, it's a worthy investment for students in a non-critical care environment. 
Here's what I mean:
Littmann Classic III is designed with a dual-sided chestpiece made of stainless steel for both adult and pediatric assessments. You can even convert the pediatric chestpiece into the traditional open bell if you want better sound specificity. 
And just like most Littmann steths, you can easily change the frequency of sound by applying pressure on the tunable diaphragms. 
Every component of the stethoscope is free of latex/phthalate plasticizers so you don't have to worry about your patients' allergic sensitivities or any environmental hazard it may cause.
In terms of maintenance, the steth has a detachable diaphragm for easy cleaning and an oil and stain-resistant tubing. 
The affordable pricing of this stethoscope makes it an ideal choice for med students. Check out its current pricing here!
Pros:
Dual-sided chestpiece for both adult and pediatric patients

High-acoustic sensitivity perfect for general physical assessments

Non-latex tubing that's easy to clean and maintain
Cons:
Not the best choice for critical care assessments
Check out over 6,000 reviews on Amazon here! 
See Reviews On Amazon
If you are on a tight budget, but wants a stethoscope from a well-known brand that does the job, then try out Littmann Lightweight II. 
Its dual-sided chestpiece is designed to provide solid acoustic performance for both pediatric and adult care assessments despite the lower cost. 
You can also tune the diaphragm when listening for low and high-frequency sounds by simply applying pressure change on it. With its tear-drop shape, you can easily fit it on the patient's cuff for accurate blood pressure readings.
To cater to pediatric assessments, this steth is designed with a non-chill rim and latex-free tubing for comfort and allergy prevention. 
With it, you can take blood pressure readings as well as other physical assessments for only $49.
Check out what others think about 3M Littmann Lightweight II S.E. Stethoscope here!
Pros:
Tunable diaphragm with a tear-drop shape to fit blood pressure cuff

Latex-free to prevent allergic reactions

Has a non-chill rim and diaphragm and a flexible tubing
 Cons:
Limited physical assessments
Currently this one sthethoscope is only selling for about $40 on Amazon and has over 4000 reviews with a 4.4 out of 5 rating! Check it out here. 
See Reviews On Amazon
ADC Adscope 603 makes it to our top 5 stet
hoscopes for medical students list for a couple of reasons. 
First, it features an adjustable frequency design for enhanced acoustic performance and a stainless steel chestpiece with extra-large bell for precision and crisper transmission.
Its non-chill diaphragm and rims and silicone ear tips for the comfort of both patient and practitioner. 
Free consumables and a lifetime warranty also come with the purchase. See the available color options on Amazon!
It's totally within the budget of an entry-level med student as it only cost $36 at the time of writing.
Pros:
CNC machined stainless steel chestpiece

Extra-large and non-chill bell and diaphragm for both low and high-frequency transmission

Adjustable frequency design (ADF)
 Cons:
Only best for basic assessments
Check it out on Amazon here!
See Reviews On Amazon
Best Low Price Stethoscopes
If you're scarce with money and is still at the beginning of med school, you may want to pick from these low costs stethoscopes. You can always upgrade later on! 
The device is great for basic blood pressure and heart rate assessments although the construction is low-cost.
Features include a dual-sided chestpiece, tunable diaphragm, latex-free and non-chill materials, single-tubing design, and tip-seal ear tips. 
Check out how much you can save here! (Currently it's about $19)
Pros:
Dual-sided chestpiece with non-chill materials to prevent shock

Single-tubing design is latex-free and stain and oil-resistant
 Cons:
A much cheaper product from the ADC Adscope line is this Lite 609 stethoscope. The price is only $19 and you already get a decent steth for medical school.
This clinician stethoscope can be used for both pediatric and adult assessments and is super-light that you forget it's around your neck. 
The chestpiece and headset are made of stainless steel with a satin finish and comes with all the free consumables you'd get from any ADC Adscope product. Here's the proof!
Pros:
Combined chestpiece material for the basic types of assessments

Stainless steel material and with Adsoft Plus ear tips
Cons:
May be challenging to use in a distractive environment
See Reviews On Amazon
#3: Omron Sprague Rappaport Stethoscope 
This is another low-cost steth priced at $19 with quality and performance that speaks beyond its price.
As noted by reviewers, the tool is comparable to some higher-priced stethoscopes on the market and does well in auscultating heart and lung sounds and even the subtle valve abnormalities. 
Click here to get more reviews from verified purchasers! 
Pros:
Latex-free tubing

Comes with 3 sizes of open bells and 2 sizes of diaphragms
 Cons:
Needs a fairly quiet room to work best
"Don't spend lots of money without giving this a try!" That is just one of the comments on this very affordable cardiology steth from Paramed that cost only $16. 
It's made with latex-free materials, stainless steel chestpiece, and a non-chill rim. 
Best used with a sphygmomanometer to take blood pressure measurements or heart and lung assessments for all types of patients (Yes! That includes pediatrics and infants!)
You can purchase it here and get a gift box!
Pros:
Captures both high and low-frequency sounds within a full audible range

Stainless steel and latex-free material with a non-chill rim 
 Cons:
If affordability and comfort are what you're after, you can try out MDF's dual-head lightweight stethoscope with aluminum dual-head chestpiece. Check out the price here!
This inexpensive alternative can prove useful for taking blood pressure readings and making basic heart and lung assessments. It may not be the most sensitive, but can be a great choice for starting in med school.
Pros:
Super lightweight and is easy to carry around  

Aluminum dual-head chestpiece with non-chill bell ring
Cons:
Only for basic assessments
See Reviews On Amazon
---
Which Stethoscope Is The Best For Med Students?
There is no single best stethoscope for med students, but depending on the nature of your training and needs, there could be better ones. 
For the sake of ranking down the steths I've listed above, I'd say that the best one is Littmann Cardiology IV Diagnostic Stethoscope.
It's especially helpful for those training for the critical care field as it allows you to effectively distinguish the subtle sound differences in an otherwise challenging environment. 
It also has an ergonomic construction and is backed by a 7-year warranty which makes it an even more attractive option!
You can check out the Cardiology IV and the review here!
See Reviews On Amazon
But again, consider what you need for training and your budget range. There sure are plenty of good ones available and you just have to do your due diligence in researching. 
I hope you enjoyed this post on the top 5 stethoscopes for medical students! If you did, you might also enjoy the following posts:
How To Study in Medical School [Ultimate Guide]
How To Study For Step 1 [Get a 250+]
Ultimate Guide on How To Study For Step 2 CK (2021)
How to be More Productive in Medical School
What It's Like Being A New Doctor In Residency
And if you want to cut back your study time in half in just three weeks, check out my premier course – Level Up Your Studying!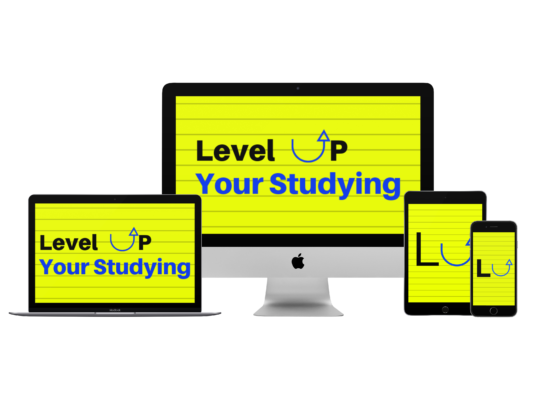 With this course, you can create a study system that's perfect for you! Many other med students love it and I'm sure you will too! So go ahead and click that link!
Thanks for reading!
Until next time my friend…