Among the hundreds of MCAT prep courses out there, it seems that the title "best" goes back and forth between two courses. It mostly comes down to this: Kaplan vs The Princeton Review — which is the better option for the MCAT?
Kaplan and The Princeton Review are premium brands offering superior, high-quality options and courses. In the entire MCAT prep industry, there is no doubt that these two are at the very top of the heap.
With the level of experience both brands have, it is quite hard to judge which is the better prep course option for the MCAT. They have a plethora of similarities in terms of services and quality.
Both are not exactly cheap either, so students may not afford them if they get both brands at the same time. The best option is to choose the better prep course between Kaplan and Princeton to save the student precious time, money, and effort.
Continue reading as I break down these companies' specific benefits for you.
[Free Download] Want to have everything you need to be a top student on your medical journey? Get FREE access to our Med School Success Handbook to get 60+ tips including the best study, time management, mindset tips you need to be a top student. Download it here.
If you search for prep courses, you will realize that Kaplan is a leading name and brand. Established in 1938, Kaplan is among the best in the industry in providing high-quality test prep options to students.
Kaplan is a leading organization with a clear mission of providing education in a wide variety of fields. Kaplan provides practice tests, books, and courses for multiple standardized tests, including the MCAT, LSAT, ACT, SAT, GED, GMAT, and GRE.
Stanley Kaplan is the person behind Kaplan. He managed and led the company, making it possible to be available in 36 countries and provide service to more than 2.1 million students globally.
Being a veteran and pioneer in the test prep field, you can expect their system and tech to be more technologically advanced than most companies in the industry.
Pros
A flexible and extensive question bank for an adjustable and customizable study guide and notes

A practical mobile app and user-friendly dashboard

A wide array of practice tests

Tons of prep material to help students study for the MCAT

High-production and quality video lessons for optimal learning

Flexible live class schedule to better accommodate busy students

Unlimited access to their livestream MCAT workshops
Cons
Brief explanations of the practical problems

The mobile application of Kaplan is a bit lacking

Fewer live course hours
Prep Courses
Kaplan prep courses aid students in preparing for middle school through the professional level. The company offers prep courses and high-quality materials that cover all the leading tests they will encounter.
In addition, students can easily customize their test prep services to match their learning and studying styles. To do that, they can choose between their program types.
For the MCAT, Kaplan offers the following options to students:
Live Online Course

– This course requires students to attend the scheduled virtual online classes featuring expert instructors.

On-Demand Course

– A pre-recorded course that helps students learn and study at their own pace and speed.

Bootcamp

– Students also have the choice to decide between attending the boot camp at the designated location or from home. This course tends to be the more rigorous and intense one.

In-Person Course

– This is a course that requires the student to attend the class physically. They can meet their instructors in person while also having access to all the online resources.

Private Tutoring

– This requires a one-on-one meeting with a designated tutor via live online chat.
Practice Tests
Those who do not have the time to attend the Kaplan prep courses can instead focus on the practice tests. Kaplan offers their practice tests as a standalone package, although they are also available for those who do the courses.
Kaplan has 17 practice tests and over 3000 customizable quizzes, ensuring that students will have plenty of chances to test and enhance their skills and knowledge.
The tests can give you a similar feel to the actual MCAT. Also, each question offers an explanation to help you understand the subject matter better.
These tests can undoubtedly help students make an accurate assessment of their level of preparedness for the MCAT. The mock test results will also help them see where they struggle most.
[Free Download] Want to have everything you need to be a top student on your medical journey? Get FREE access to our Med School Success Handbook to get 60+ tips including the best study, time management, mindset tips you need to be a top student. Download it here.
While not as old as Kaplan, The Princeton Review is not entirely new to the field either. Born in 1981, Princeton Review has been making a name for itself in the test preparation industry.
With over 40 years of experience, Princeton Review has done nothing but serve as a golden standard for other test prep brands and companies. They are best known for their top-notch test prep materials, including extensive study guides and full-length accurate practice tests.
They also have a tutoring service that is second to none in the field. Aside from the MCAT, the Princeton Review also helps students prepare for other standardized tests like LSAT, ACT, and SAT.
This test prep company is available in 14 countries and is helping more than 1.6 million students raise their grades, learn new skills, and attend their dream universities.
Princeton Review strives to accomplish its goal of helping more students globally by using cutting-edge technology, quality content, expert instructors, and challenging practice tests.
Pros
Extensive and deep curriculum packed to the brim with detail for those in need of strong content review

Top-quality MCAT prep books

Highly-qualified and trained instructors and tutors

Engaging and fully-immersive courses

Superior score improvement guarantee

Free trial and many discount offers

An exceptional number of live instruction for high-quality courses
Cons
More expensive than Kaplan courses

The mobile application of Princeton Review is not that great

Video quality and production are not the best
Prep Courses
Like Kaplan, Princeton Review also offers multiple test prep courses:
Self-Paced

– This course consists mostly of on-demand course content with some live sessions.

Live Online Course

– The student can get more concise and immersive live sessions with this course. It is an ideal choice for students who do not have much time left before the test.

513+ Course

– It comes with long hours of pre-recorded video sessions and lessons.

515+ Immersion

– This course offers both live and pre-recorded lessons. Students can also have a designated study advisor.

Private Tutoring

– Choosing this option means having a team of tutors help you with studying for the MCAT.
Practice Tests
Being known as one of the few e-learning brands and platforms to offer accurate AAMC-released practice tests, you can expect their tests to be among the best to help you thoroughly prepare for the MCAT.
By subscribing to Princeton Review, you can access their 16 full-length tests. Aside from that, they have over 2,500 in-house questions to challenge your knowledge and skills.
To help with your review, Princeton Review also provides detailed answer explanations to help you understand the topics.
Study Guides
For students who prefer to study independently and at their own pace, Princeton Review has a few study guides that can help. These guides cover all sorts of information and topics in each test and always come in test prep book sets.
Princeton Review has more than 150 books available for test prep and has sold over 35 million copies.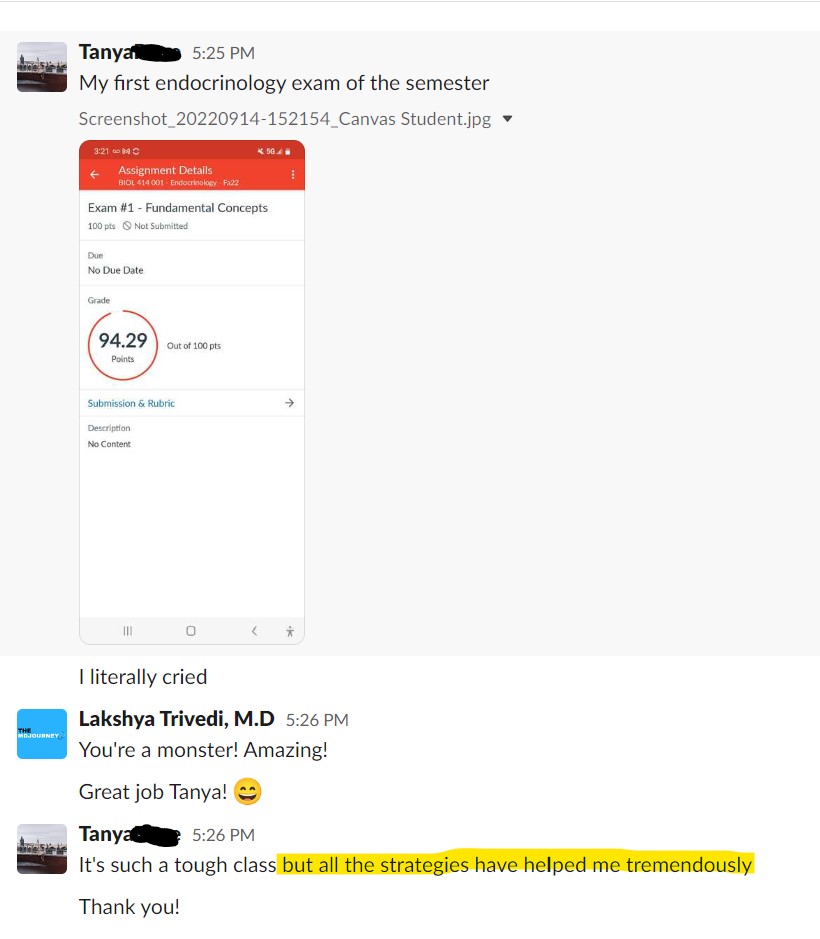 Download The Free Med School Success Handbook For The Best Step-By-Step Tips For Your Medical Journey!
Kaplan Vs The Princeton Review: Which Is Better For MCAT?
Kaplan and Princeton are known global leaders in MCAT test prep. They are highly renowned for giving top-notch test prep materials and courses.
Being the same kind of companies, they have many similarities between them. They offer courses, practice materials, and tutoring options to students who need help preparing for their upcoming MCAT.
Now, how are they different? Which is the better option?
Let's explore that here.
Content Coverage
When students are comparing Kaplan vs Princeton Review, the content is the first thing they would look into. As such, they would look up their courses and see if they are good.
Both Princeton Review and Kaplan offer intense and heavy-content curriculums and courses that intend to cover every topic and subject matter to help you successfully get through the MCAT. Both provide extensive content that will not only help you study the material but also help you learn it more efficiently.
Princeton Review MCAT curriculum is incredibly dense — all to the point that it appears to be giving out too much detail on the program. Looking at it can make anyone feel nauseous.
In other instances, great detail is good. In this one, though, it isn't necessary. Princeton Review's extensive detail nature can make it challenging for a student to focus.
In terms of video content, Princeton Review is brimming with it. They have over 500 videos for their live online and self-paced courses. They are short and straight to the point, so you don't have to worry about them being time-consuming.
On the other hand, Kaplan's MCAT curriculum is concise, with a dash of fluff to the side. However, beware that they throw plenty of formulas at you, with tons of overview information. While helpful, they can still be overwhelming to students.
They offer both self-paced and live online courses, along with 90+ videos, which is less than Princeton Review's 500+ videos. However, don't be too quick to judge since Kaplan has a unique approach that can help you better understand the content.
[Free Download] Want to have everything you need to be a top student on your medical journey? Get FREE access to our Med School Success Handbook to get 60+ tips including the best study, time management, mindset tips you need to be a top student. Download it here.
MCAT Books
Both companies provide MCAT books with great coverage and a comprehensive review of the MCAT subjects.
Princeton Review adopts a dense and in-depth kind of approach to its services. That applies to their books, as well. While this may be good as it means you are getting extensive content, that much information might leave you confused and overwhelmed in the end.
One huge upside of Princeton Review Books is that they excel with their Psych/Soc sections. They provide quality content and coverage for those subjects of the MCAT.
Unfortunately, Princeton Review books did fall short in the Biochemistry section.
Kaplan MCAT books are highly recommended in the test prep industry. Not only do these books have detailed content reviews, but they are also written in a way that's easy to grasp and understand.
Kaplan books have tons of valuable resources like end-of-chapter summaries and concept checks.
Unlike Princeton Review's approach, Kaplan prefers to keep things concise. Rather than going in-depth, Kaplan explains everything clearly and concisely — right down to the basics.
These books are typically spot-on about covering everything you need for the upcoming MCAT.
Specifically, Kaplan did exceptionally well in covering the Bio/Biochem and Chem/Phys sections. They did fall short in the Psych/Soc and CARS areas, though.
Practice Materials
Princeton offers 16 full-length practice tests and thousands of practice questions complete with detailed answer explanations.
On the other hand, Kaplan has many practice resources, as well. That includes 17 full-length practice tests and a QBank with over 3,000 questions.
Moreover, both e-learning platforms offer official AAMC practice materials with their MCAT courses. However, note that both companies do not have representative practices.
Princeton Review practice tests tend to be extremely difficult. Meanwhile, some of Kaplan's practice tests can be underwhelming. Specifically, their CARS practice tests are particularly disappointing — which is to be expected since Kaplan does not do well in replicating AAMC CARs.
Pricing
Finally, let's delve deep into the costs of the packages and services in each company.
When you compare them side-to-side, it seems that The Princeton Review is cheaper and more affordable, though the prices for each brand may vary from time to time. The Princeton Review has packages that range from $1,599 to $6,349, while Kaplan's packages range from $2,099 to $7,299.
For a full comparison, see the prices here:
The Princeton Review MCAT Packages
Self-Paced – $1,599

Live Online Course – $2,099

MCAT 513+ – $3,099

515+ Summer Immersion – $6,349
Kaplan MCAT Packages
On-Demand MCAT Course – $2099

Live Online MCAT Course – $2,699

Private MCAT Tutoring + Live Online Course – $3,399

MCAT Bootcamp Online – $7,299
Princeton Review also offers private tutoring services for a $183/hr price range. They even have a Comprehensive Admission Counselling Program for those students who need help with their medical school applications, requirements, interviews, and more.
[Free Download] Want to have everything you need to be a top student on your medical journey? Get FREE access to our Med School Success Handbook to get 60+ tips including the best study, time management, mindset tips you need to be a top student. Download it here.
Conclusion
Now, for the final verdict. Kaplan vs The Princeton Review: which is the better option?
Both companies have prep courses priced higher than other MCAT courses. With such high stakes, determining which to go for between the two becomes a much more important challenge.
First off, they have plenty of similarities. Being in the same industry and having the same set of goals — that is bound to happen.
Both brands have extensive curriculums, full-length exams, and multiple courses to accommodate students with different learning styles.
After giving both companies a grand run-through, I recommend The Princeton Review for your MCAT preparation.
Princeton Review does a terrific job of organizing its extensive content and learning guides and modules. Their instructors also ensure that every lesson they teach is easy-to-follow and understand.
Compared to Kaplan's hour-length videos, Princeton Review offers bite-size engaging content videos to help students study the subject. The short length ensures you can follow the lesson without overwhelming you with information.
Though, remember that this is based on my research. Kaplan is still a great choice for MCAT prep.
Also, Kaplan offers better schedule flexibility, allowing you more freedom and control over your study schedule.
Furthermore, Kaplan's MCAT books are also well-written and incredibly resourceful. You might find them helpful for your test prep journey, especially if you are struggling with Chem/Phys and Bio/BioChem sections.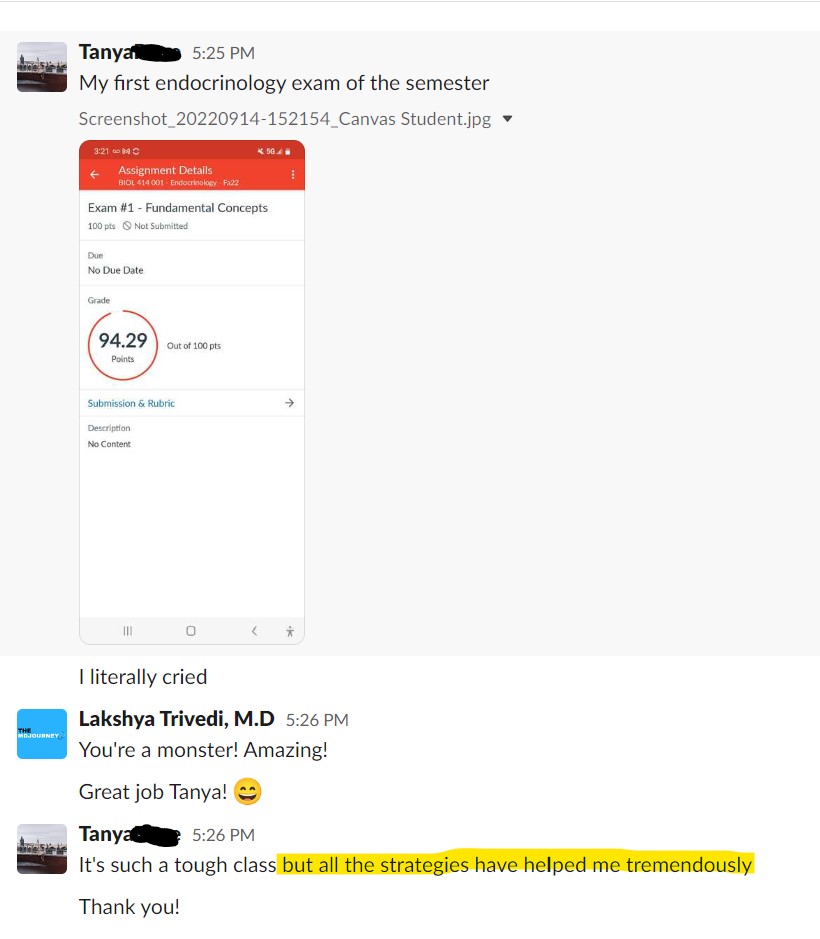 Download The Free Med School Success Handbook For The Best Step-By-Step Tips For Your Medical Journey!
Did you find this post helpful? If so, here are a couple of recommendations for you:
Until the next one, friend…