In medical school, I needed a study tool to help me retain everything I learned. For this purpose, many students debate between Picmonic vs. Sketchy — two well-known study tools for medical students.
If you're considering medicine, you'll need to prepare for rigorous school exams and the medical licensing examination. Learning large amounts of information and retaining that knowledge is challenging.
It is why medical students discover study methods and practices that work best for them. Some use mnemonic devices, flashcards, outlines, and other tried-and-tested tools to aid in studying.
As a rule of thumb, it's ideal to determine the study tool that suits your time, study style, and budget. Some students do this before medical school starts so that they can prepare before class even starts.
Why Use Study Tools for Medical School?
In my undergraduate years, there were times when I crammed the night before an exam. Surprisingly, I still did well.
But that doesn't work in medical school. The information you'll need to digest is immense.
Aside from proper time management, you'll need a dedicated study plan, a study tool that works for you, and discipline to follow your goals.
Most medical students use traditional tools like flashcards, outlines, and so on. With today's technology, though, many digital study tools make studying much more manageable.
You might wonder, "Do I need a digital study tool?" If you want to retain the information you learned in medical school, you'll need a reliable digital study tool.
Moreover, as time passes, new research and discoveries contribute to the ever-growing field of medicine. It is why you need to retain and update your learnings as necessary.
Common Studying Problems of Medical Students
Study tools can help with the everyday problems medical students face when digesting large amounts of information.
Ineffective Study Habits
Many people find studying difficult, especially if there are many distractions (e.g., the internet, traveling, and hobbies). Some put off studying until the last minute.
These behaviors lead to poor performance, which isn't ideal if you're in medical school. Don't worry: you can still unlearn these habits through discipline and time management.
Remember, forming habits takes a lot of time and patience, so don't be too hard on yourself if you make small mistakes.
Passive Study Method
Before, I used to think that re-reading my notes to review for an upcoming exam was enough. It is called passive studying, which may not be ideal for medical school.
A great way to actively review information is to test yourself instead of just reading your notes. It'll strengthen your memory and encourage excellent retention.
Bonus: Want better grades with more free time (and less stress)? Get access to our free 3-step study system here to see what other top students do that you may not be doing!
Forgetting Rapidly
Because medical school requires you to process and retain a lot of information quickly, you are more prone to forgetting most of it as time passes. The downside is that you'll need this information in your later years.
Many students and instructors encourage the spaced repetition method, where you review the material on a specific, well-spaced schedule.
Below are some popular study tools that can help you ace your academics.
Get The Exact 8-Steps I Used To Get A 3.9 GPA In Med School For Free Below!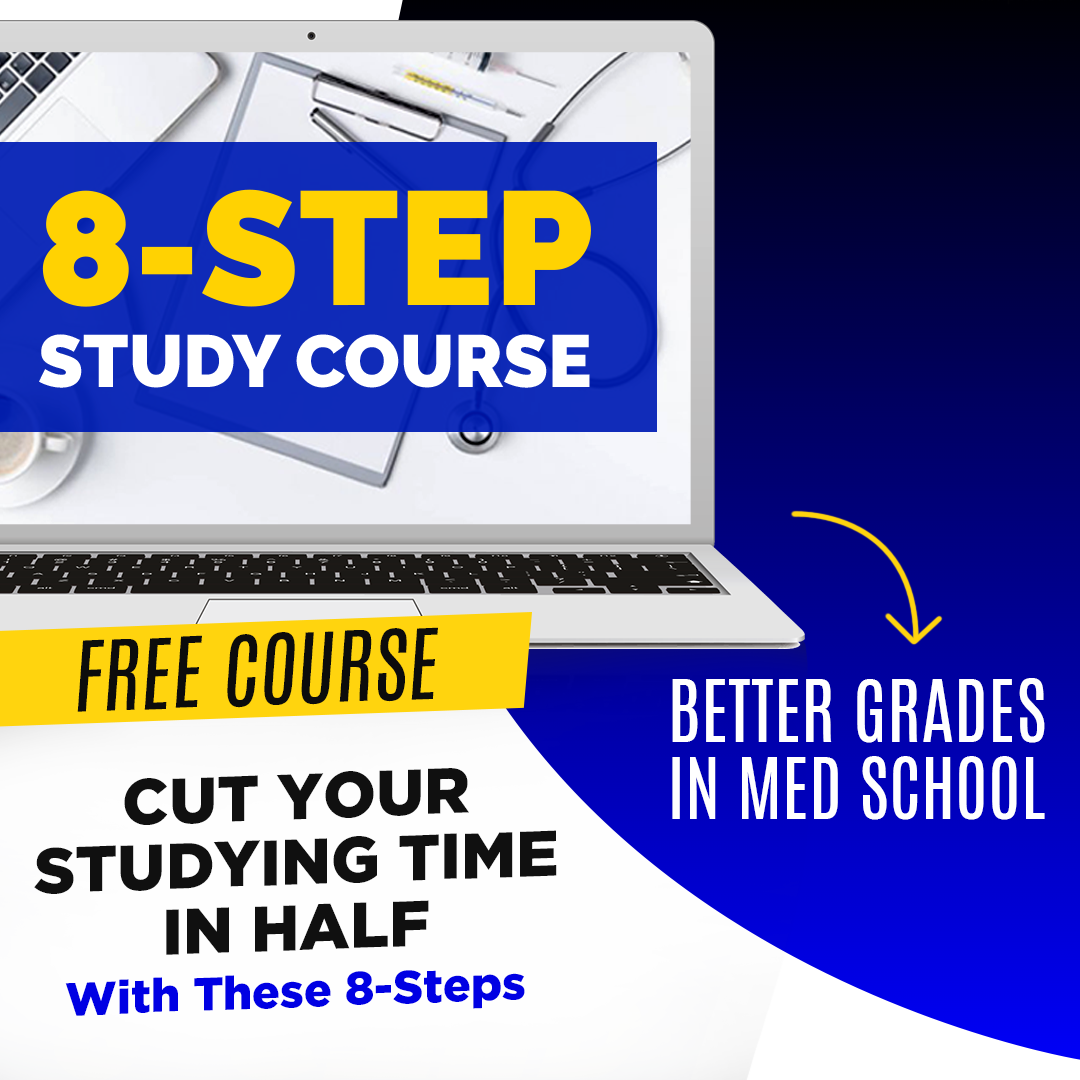 Picmonic banks on picture mnemonics, a research-backed study method that uses characters, stories, and other devices to help students learn and retain information.
It's a digital learning resource that uses visual mnemonics that many medical and nursing students enjoy. The creators of Picmonic, Ronnie and Adeel, created this application to assist fellow medical students in the demanding workload and exams of medical school.
The creators of Picmonic entered medical school to help others, and they wanted to extend their efforts to fellow students in the field.
They've helped students since 2013 and branched out to related fields like Nursing and Pharmacy. As of writing, they have over 700 thousand registered users.
Content
Picmonic offers extensive resources ranging from MS 1 to 3 and USMLE Steps 1 and 2. They have over 1,300 videos that you can view as a subscriber.
Here's a short list of courses Picmonic covers:
Surgery

Pediatrics

Obstetrics and Gynecology

Internal Medicine

Epidemiology

Dermatology

Anatomy and Embryology

Behaviour and Psychiatry

Physiology

Biochemistry

Pathology

Pharmacology

Microbiology
They also have content about several body systems:
Respiratory system

Reproductive system

Nervous system

Musculoskeletal system

Integumentary system

Immune System and Oncology

Hematologic system

Renal system

Gastrointestinal system

Endocrine system

Cardiovascular system
Aside from their available content, Picmonic offers various definitions, summaries, multimedia, Google images, and companion content (e.g. Osmosis) to help you retain medical knowledge.
They include playlists and content mapping, giving you a guide for each topic. The Picmonic community also adds information based on updated resources.
Want Better Grades In Med School In Less Time Using Just 3 Steps?

Click Below To Get FREE Access To Our Study Course To Discover The 3-Steps Hundreds Of Med Students Have Used To Increase Their Grades & Efficiency While Studying Less
Features
Picmonic lets you customize your content to suit your studying needs best.
They let you add facts or new characters to your visual mnemonic. The tool allows you to make your audiovisual flashcard from a blank slate.
If you like to multitask, Picmonic offers Android and iOS applications with offline access. It's great news if you're a medical student who wants to achieve a work-life balance.
They also have paper versions, such as printable images and workbooks, in case you can't use a gadget. Picmonic offers workbooks ranging from 6 months to USMLE Step 1.
Retention
This study tool focuses on a topic's most significant aspects, which is why you might need prior knowledge when using Picmonic.
However, it does have short videos (under five minutes) that can help you recall information better. They have a vast selection of medical topics, quiz features, spaced repetition, and medical imagery that help you retain most of your learnings.
You play a short video about your chosen topic, and then Picmonic does a short review. Afterwards, you can take a quiz to test your knowledge.
They have over 16,000 questions to help you review, too.
The spaced repetition feature plays a significant role in Picmonic's retention aspect. You can also track your progress based on course, category, topic, and fact.
Get The Exact 8-Steps I Used To Get A 3.9 GPA In Med School For Free Below!
Price
Picmonic offers affordable rates for medical students at only USD 179.88 a year. Every month, students can pay USD 14.99.
If you choose the 6-month plan, you can get Picmonic at USD 119.94 or USD 19.99 a month.
They also offer a 24-month plan, where students get the most savings. It's USD 287.76, but users can pay USD 11.99 a month.
Those who want to try Picmonic for a month can pay USD 24.99. It's an excellent option for students who need help determining which tool works best.
Picmonic also offers discounts for group subscriptions, so it's a great idea to tell your friends about this study tool. Furthermore, they also provide free trials to interested users.
If you are interested in checking out Picmonic, click this discount link and get 20% discount on Picmonic.
As its name suggests, Sketchy utilizes characters, humor, and stories to help students learn and recall information better. The company has a team of artists, educators, technologists, students, and doctors to help people learn differently but efficiently.
Like Picmonic, a group of medical students developed Sketchy to help fellow medical students through their Step 1 and Step 2 examinations.
Sketchy based its features on the Method of Loci. It's a Greek memory technique of spatial learning that connects memories with specific items in an imaginary physical space.
Surprisingly, many memory champions use the spatial learning technique. It's why Sketchy helps so many medical students ace their examinations.
Want Better Grades In just 3-Steps?
Get Access To Our Free 3-Step Study System To Get Better Grades With Less Time & Stress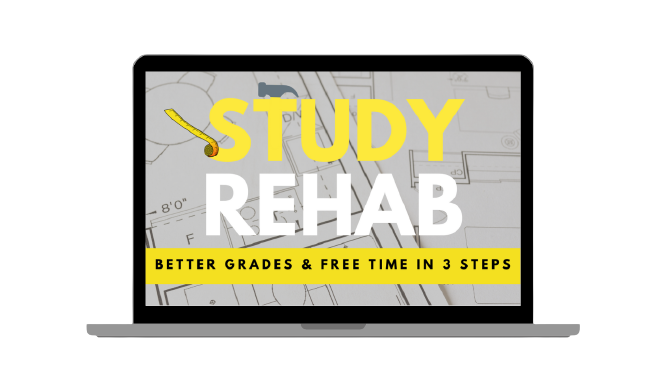 Content
Sketchy includes content appropriate for MS 1 and 2 and USMLE Steps 1 and 2. You have access to over 500 total videos on various topics in the medical field.
The study tool covers the following clinical and preclinical courses:
Internal Medicine

Biochemistry

Pathophysiology

Pharmacology

Microbiology

Anatomy

Obstetrics and Gynecology

Toxicology

Surgery

Pediatrics

Neurology

Biostatistics and Epidemiology

Physiology
Sketchy provides vast content about body systems under each course. You can see the curriculum in detail on their website.
Like Picmonic, they utilize definitions and concept mapping to help users grasp a topic properly.
It's important to remember that this study tool has very comprehensive videos perfect for in-depth learning.
Bonus: Want better grades with more free time (and less stress)? Get access to our free 3-step study system here to see what other top students do that you may not be doing!
Features
Sketchy features a curriculum made with the help of actual doctors. They regularly update their content to match the ever-evolving field of medicine.
The Sketchy Universe employs unforgettable imagery and characters that expand users' learning potential and helps with their retention.
They recently released the Sketchy app, which provides users with an on-the-go option.
Sketchy also has workbooks for select courses, such as Microbiology, Pathology, and Pharmacology. At less than USD 50.00, they're a great way to retain more information as a medical student.
Retention
Sketchy provides longer, in-depth videos that are up to 30 minutes long. They use images as memory anchors. They help you associate an image with some information from your chosen topic.
Their process is a bit simpler than Picmonic's. All you have to do is watch the video and review the material on your chosen topic.
Sketchy relies on recurring symbols and concept grouping to help you retain as much medical information as possible.
However, you still have the option to take a quiz to test your retention. Over 3,800 questions and more than 1,000 interactive review cards are available on Sketchy.
Like Picmonic, you can track your progress by chapter and topic.
Price
The Sketchy subscription is more expensive than Picmonic's. Sketchy has a 6-month plan costing USD 299.99, or USD 50.00 a month. Their yearly subscription comes at USD 399.00, or monthly payments of USD 33.33.
If you want the best value for Sketchy, you can avail of their 24-month plan, which comes at USD 599.99 one-time or monthly payments of USD 25.00.
A unique feature about Sketchy is that they have a 7-Day Money Back Guarantee. If you don't like Sketchy in the first seven days, they can give you a full refund for whatever reason.
Sketchy also offers free trials if you want to test it for a few days.
Get The Exact 8-Steps I Used To Get A 3.9 GPA In Med School For Free Below!
Picmonic vs. Sketchy
Both study tools seem like great investments, but you might wonder, "Which is better?"
There's no simple answer to that question because these study tools depend on your needs and learning style. After all, each medical student is unique.
But to answer the question of which is better, it would have to be Sketchy.
On Sketchy, you can teach yourself new topics and use the application for retention. Additionally, Sketchy provides more thought into their illustrations thanks to the artists on their team. This feature helps people remember information better than the sometimes random imagery found on Picmonic.
Sketchy also offers longer videos so you can understand the topic deeper.
Picmonic is a great choice if you want to remember your previous lessons. You need existing knowledge for Picmonic to work for you. It has a more comprehensive selection of topics you can review, and its videos are shorter.
Sketchy is better to use if you are still new to a topic, while Picmonic is more efficient for reviewing before your exam.
However, it's still a great idea to try both study tools to see which works best for you. There's a free trial for Picmonic and Sketchy, don't miss out!
Bonus: Want better grades with more free time (and less stress)? Get access to our free 3-step study system here to see what other top students do that you may not be doing!
Can Medical Students Use Both Picmonic and Sketchy?
If you aren't on a budget, you can use Picmonic and Sketchy to help with studying.
Using the two study tools in medical school gives you more topics to learn and review. You can fill in the gaps of each study tool.
Some medical students also use Sketchy first to learn the topic and then Picmonic to review it before an examination. Remember, Sketchy has longer, more in-depth videos, while Picmonic has shorter, more accessible videos for review.
Other users recommend Sketchy for one topic (e.g. Microbiology) and Picmonic for another (e.g. Pharmacy). These applications can complement each other in terms of content.
Both applications have a review feature that lets users further recall the topic.
These study tools have different approaches: Picmonic aims for concise recall through memorable visual materials, while Sketchy gives an in-depth learning experience.
I hope this short review and comparison of Picmonic and Sketchy helped you decide which study tool to use. Both applications have their pros and cons and suit different types of learners.
If you're into detailed, in-depth learning, then Sketchy is right for you. If you want concise, quick reviews, you might consider Picmonic.
Either way, establishing a great study routine, employing good habits, and practicing discipline and time management can help you become successful as a medical student.
Want Better Grades In Med School In Less Time Using Just 3 Steps?

Click Below To Get FREE Access To Our Study Course To Discover The 3-Steps Hundreds Of Med Students Have Used To Increase Their Grades & Efficiency While Studying Less
You may be in medical school and you want tips and strategies that will help you avoid pitfalls and become more successful. Study better and have better time management and productivity with the Domination Bundle!
The Domination Bundle is literally all the guides and resources that I have put together when I was in medical school and things that I wish I used back then. And it's been reviewed by hundreds of students. So check it out here if you're interested.
If you enjoyed reading this post, how about checking out more blog entries with great content?
Medical school can feel overwhelming. However, with the right study tool, you can pass your assessments and exams with flying colors!
Until the next one, my friend…